Can David James Recreate That Famous Michael Owen Goal?
Win tickets to England v Slovakia with Continental Tyres #RoadToFrance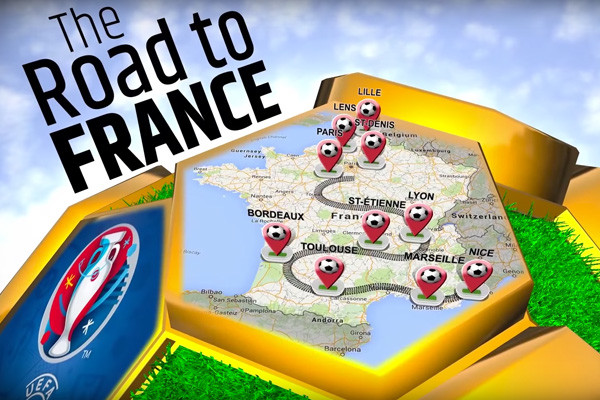 With the clock ticking down to the start of Euro 2016, Continental Tyres have teamed up with a host of ex players, commentators, and pundits to hear their insights and opinions while on the 'Road To France'. As part this unique video series they have got together with former England and Premier League goalkeeping star David James at the Stade Geoffroy-Guichard in Saint-tienne.
After assessing the chances of Roy Hodgson's England team going in to the tournament, David dons his boots to try and recreate one of England's most iconic goals of all time; Michael Owen's England goal against Argentina! Scored in this very stadium during the France 98 World Cup, Owen's goal itself not only goes down as one of the greatest world cup goals in memory, but it also marked a near perfect debut for the then England youngster.
While not being able to call on the services of the original 'Golden Balls', watch above as James receives the ball from Continental Tyres' very own David Beckham, as he then proceeds to duck, dive, and weave through 2 defenders before blasting an unstoppable shot past the stand in Argentinian goalkeeper Don Piere. While you might be fooled in to thinking he succeeds first time, stay tuned as you get to see some of his earlier wayward efforts. Still though, not bad for a man more used to keeping the ball out of the net!!
With the tournament due to kick off in Paris on 10th June with France vs Romania at the Stade de France, visit the Continental Tyres TV YouTube page to view the full series. This includes a visit to ex Ireland midfielder Ray Houghton's brewery in Lille, a romantic boat ride in Paris with Kevin Kilbane, and a pre England vs Wales showdown at the Stade Bollaert in Lens with John Hartson and Darren Anderton.
Continental Tyres are an official sponsor of UEFA Euro 2016. In delivering safe transportation to all the participants of the competitions, Continental provide tyres and other products for every team bus to ensure that everyone arrives safe to the stadium no matter what the weather, the terrain, or the conditions. With over 10 proud years of football sponsorship, Continental have become synonymous with high quality and performance on the world stage.
To see updates ahead of the Euros, you can follow Continental Tyres on their socials channels below: -
twitter.com/contiuk
-
https://www.facebook.com/contifootballUK
Continental Tyres are giving you the chance to have your own #RoadToFrance. To find out how simply click 'next' for the T&Cs on the competition
Powered by REDPILL
Continental Tyres
Continental develops intelligent technologies for transporting people and their goods. They are an international automotive supplier, tyre manufacturer, and industrial partner who provides sustainable, safe, comfortable, individual, and affordable solutions.
See more from Continental Tyres