10 Movies That Prove Dennis Quaid Is Impossible To Kill
1. The Day After Tomorrow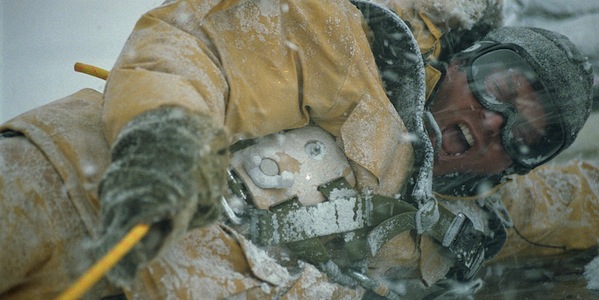 Leave it to Global Climate Change, a worldwide threat putting 7 billion people on the edge of death, multiplied by 10 to still fail miserably at killing the seemingly immortal Dennis Quaid. With a ludicrous volume of tornadoes tearing apart Los Angeles and three hurricanes on steroids ripping apart the east coast of America and pretty much the whole world, Jack (Dennis Quaid) is not giving up on rescuing his son who is trapped in Manhattan by massive freak waves the size of skyscrapers and freezing temperatures plagued by man-eating wolves. Not one bit.
Despite humans dropping like fly-sicles while seeking refuge in cars, helicopters, or volcanoes, Jack treks up the east coast saying "F*ck you Mother Nature, I'll just put on a bigger coat." Nearly falling through the roof of snow-covered malls and dominating the body's natural biological process of dying in negative forty degree weather like most humans, Jack makes his way to his son stuck in a library in New York City.
Given that the level of "You Should Have Died" is cranked to about eleven and a half in this world-ending CGI action flick, I would say that if near human extinction can't kill off Dennis Quaid then nothing can. Time and time again the man has proven to be a bona fide badass with the blood of telling death "it's a baby kitten with no claws" running through his veins, DQ shows that there is no excuse to cry when your arm falls off due to frostbite. Oh, did you just get eaten by a Great White Shark? Well man up! There's no time for quitters in Quaid's world. You either live or you don't. And with the big DQ, he's going to live, whether the God of Death likes it or not.
Which other films do you believe show Dennis Quaid as a tough guy to kill? How about other actors who have near immortal characters most of the time? Let us know in the comments section below.