The Monuments Men Trailer – Watch Ocean's Eleven In World War II
Not even a week ago I published an article drumming up some awareness for likely Oscar contenders still to be…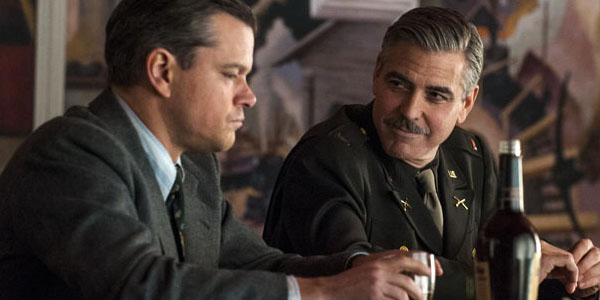 Not even a week ago I published an article drumming up some awareness for likely Oscar contenders still to be released in 2013. One of those stimulant and promising looking films was George Clooney's next directorial feature, The Monuments Men although it did not have a trailer revealed at the time.
That all changed today and judging from what you'll see below, I think I made a pretty worthy call;
[springboard type="video" id="771031″ player="what003″ width="600″ height="400″ ]
Beginning with George Clooney recruiting Matt Damon for a dangerous, undercover "band of men on a mission movie", there's a very conscious feel to a World War II version of Ocean's Eleven here. There's Clooney's character's moral superiority from who he is deceiving (though this time it's much less questionable with the antagonist being Adolf Hitler and his attempt to destroy artefacts to essentially erase entire cultures from history) and a great ensemble of varied actors that this time include John Goodman, Bill Murray, Jean Dujardin, Bob Balaban, Hugh Bonneville and Cate Blanchett.
What some may find surprising is the noticeably lighter tone too that evokes the Ocean's movies. This is not the serious movie you may have expected from Clooney and it's tonal his lightest since Leatherheads. There's no moral ambiguity, it's a classic, big cast Hollywood WWII movie that could have been released in the 60s.
So is this movie about under-trained art historians travelling into the depths and dangers of war to protect various precious heirlooms the Oscar contender we thought it could be? Judging from the trailer it could turn out to be a nominated contender but it's too light for anything else (John Goodman should steal the show here in his comic relief role).
The Monuments Men releases stateside this December.