Top 10 Hammer Horror Films!
As our second annual 31 Days of Horror spectacle is now well and truly underway, check out WhatCulture!'s ten best Hammer Horror picks!
As our second annual 31 Days of Horror spectacle is now well and truly underway, check out WhatCulture!'s ten best Hammer Horror picks! They were one of Britain's most successful film studios throughout their heyday from the late 1950s to mid 1970s and within that time they produced some of the most memorable horror films ever to be made here. After disbanding in the late 1970s, after a slew of commercial flops, today Hammer Picture Productions is a fully-fledged, working company once again. With their production of The Woman in Black, starring Daniel Radcliffe, eagerly awaited in cinemas next year and in celebration of our 31 Days of Horror spectacular, it's time to get nostalgic and remember the 10 Best Hammer Horrors! So dim the lights, grab a cushion...you're in for some sheer terror!!
10. DR JEKYLL & SISTER HYDE (1971)
This has to be one of Hammer's greatest films from the advertising campaign alone! US one sheet poster designs boldly boasted that audiences would see a real life sex change on screen, in front of their very eyes! Whilst this grandiose claim was not strictly true, the film does include a very impressive shot where actor
Ralph Bates
essentially morphs into
Martine Beswick
. The trick of the camera and the on screen mirror is one of the best sequences in the film, a truly unsettling moment. The rest of the film comprises of dark, violent sequences laced with latent black comedy. There are a number of moments that are genuinely taut, such as when Sister Hyde seduces Dr Robertson (
Gerald Sim
). Here, the audiences€™ knowledge of the fact that she is really Dr Jekyll makes for an extremely uncomfortable scene. The film combines gothic settings of a smoggy Victorian London made up of narrow alleys and dark back streets with a narrative that highlights the horror of an obsessive personality. Bates is excellently cast as the slightly socially awkward Jekyll, whose only desire is to discover an elixir that will cure all common diseases. The destructive nature of his obsession is brilliantly handled by both Bates and Beswick (as his alter ego Sister Hyde) and whilst the narrative often slips into the verges of camp, it remains a highly entertaining film. Beswick is extremely sexy in her role, vamping it up as the more aggressive half of Jekyll€™s personality, but this ebullient provocative nature unnerves (male) viewers when considering the fact that she is essentially a man... Creepy stuff!
09. COUNTESS DRACULA (1971)
Based on the popular folk legend of Countess Elizabeth Bathory, Hammer€™s
Countess Dracula
has absolutely nothing to do with the notorious Transylvanian count or vampirism. Instead, taking inspiration from what centuries of generations have passed down as fact, the film focuses on a harsh, aging Medieval ruler (played by one of the studio€™s finest assets,
Ingrid Pitt
) who discovers that by bathing in the blood of young virgin girls, her youth is restored. Countess Dracula is a brilliantly scathing comment upon vanity and the evil this generates within us. The true horror of the piece lies in this critical underlying social message, rather than in any particularly grotesque imagery or action within the narrative. True, the prospect of the young Imre (
Sandor Eles
) being betrothed to the haggard old Countess is grotesque, it is the atmosphere and suspense created by director
Peter Sasdy
that makes the film so foreboding. With every bath in virgin blood, Countess Elisabeth becomes even more hideous each time the effect wears off. This gives Hammer the chance to show off their effective special effects makeup, as Ingrid Pitt literally ages by about 100 years in the exciting climactic scenes! As impressive and grotesque as the Frankenstein and Mummy makeup created for the studio€™s earlier films, Pitt€™s face is the image of putrid ugliness €" suggesting that her extreme vanity has only led to her vile, wicked personality showing.
08. THE NANNY (1965)
This subtle chiller seems like a bit of an anomaly in Hammer's cannon of horror films and very much a vehicle for a post-Baby Jane, deglamorised
Bette Davis
. Shifting away from the gothic turn of the century settings of many of their other films, the action is transported to contemporary London and has a certain social drama - as well as horror - feel to the proceedings. The film builds to a climactic crescendo with enough suspense and plot twists to keep the most avid of horror aficionados happy though. Davis puts in a powerhouse performance as the imposing and intimidating nanny, but also manages to instil a sense of humanity into the character to give a multidimensional performance that transcends the typical villain mould set. There's more to
The Nanny
than a standard horror narrative, with tension and mystery filling the narrative more than actual horrific events (although there are a couple of instances that are rather chilling) and the film is certainly performance driven.
William Dix
as Joey, the little boy, fares well opposite the overbearing talent of Davis, giving a performance that is proficient beyond his years. Joey is precocious and irritating €" perhaps even the real culprit for all the terror €" but you can't help rooting for him! Whilst this may not be your typical Halloween jolly, The Nanny exhibits a rare breed of intelligent horror that plays on audiences' fears by generating an unsettling atmosphere and creating an enthralling narrative.
07. FEAR IN THE NIGHT (1971)
This late entry into Hammer's cannon of psychological horrors is a slick tale of terror. Starring
Judy Geeson
and veteran Hammer star
Peter Cushing
, the film plays on a number of tactical suspense mechanisms to create a taut and engaging narrative. With an excellent pace, the film builds up enough tension to put viewers on edge and draw them into the mysterious narrative. Geeson gives a stellar performance as the nervous Peggy, who joins her husband (played by Hammer regular
Ralph Bates
) at the school he teaches at after surviving an attack in her home by a man with a fake arm. Joining headmaster Michael Carmichael (Cushing) and his young wife (a better than average
Joan Collins
) at the school, Peggy is disturbed to find that the headmaster could possibly be the man who attacked her€ Cue plenty of taut confrontations between the two in the maze-like, empty school and enough babbling from Peggy to make everyone think she€™s a complete fruit-loop! Director
Jimmy Sangster
(who was also one of Hammer€™s most notable writers, with great projects such as the original Dracula, Frankenstein and Mummy projects by the studio to his name) is apt in his transition to behind the lens, but it is Cushing€™s macabre and unsettling performance that gives Fear in the Night its real atmosphere!
06. TASTE OF FEAR (AKA SCREAM OF FEAR, 1961)
This tightly scripted, well-acted chiller was the first of Hammer's forays into the psychological subgenre of horror cinema in the wake of Alfred Hitchcock's critically and commercially successful Psycho. Revolving around four characters only, the film perfectly creates an eerie and foreboding atmosphere. The tone of the film remains as such throughout the narrative, building upon the underlying sense of terror and suspense. The film consists of enough plot twists and surprises to keep contemporary viewers engaged, with the triple twist ending proving shocking even today. The film is ably steered by
Susan Strasberg's
(yes, daughter of the famous Actor's Studio teacher, Lee Strasberg) central performance as the terrorised Penny Appleby, whose family are out for her inheritance. Support comes from
Christopher Lee, Ann Todd
and
Ron Lewis
and the whole cast blend well together to heighten the tension that permeates throughout the plot.
05. BLOOD FROM THE MUMMY'S TOMB (1972)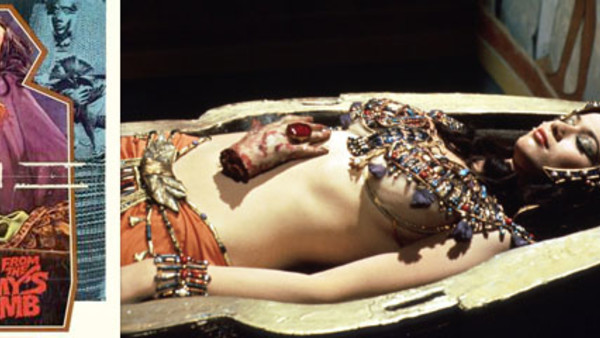 Hammer€™s series of Mummy films got off to a promising start with the original, eponymous film back in 1959 with Christopher Lee as the monster. This late offering in the series is unique, in that it focuses on a dead Egyptian princess known for her sorcery, rather than the typical evil priest routine found in the rest of the films. What this means is that the film features one very yummy mummy €" the beautiful (and busty)
Valerie Leon
! Produced in the 1970s,
Mummy€™s Tomb
features the usual luscious gothic atmosphere and setting of Hammer€™s most iconic films, but the easing of censorship laws mean that it also blends this with a gaudy, 70s-esque sleaze. It€™s the most gory of the Mummy series, with a crawling severed hand creeping across the screen for much of the narrative and strangling victims in a series of scenes that border on the hysterical. Mummy€™s Tomb is certainly one of the studio€™s campest ventures, but it does include some sensationally atmospheric direction from the great director
Seth Holt
(who was also responsible for a number of successful Hammer productions, including The Nanny, which features earlier on this list). Unfortunately Holt died during production and Michael Carreras inherited the film. Although Carreras was a much less skilled director, he manages to retain some of Holt€™s unsettling atmosphere to make the film one of Hammer€™s most intriguing!
04. QUATERMASS AND THE PIT (1967)
With a new Blu-ray release coming out in the next few days, there's never been a better time to revisit this piece of classic Hammer. Blending elements of sci-fi with the horror genre, the studio set this tale of an alien spacecraft discovered underground in London in the post war period and not in the familiar gothic past of their other major productions. This transportation of locations gives the film a different feel: there's something far more ominous and realistic about the plot, which heightens the horror. Starring
Andrew Keir
and
Barbara Shelley
, Quatermass is an exciting and unnerving production with some fantastically inventive plot points and exhilarating special effects. The narrative includes a uniquely terrifying prospect that humanity may actually turn upon itself, as we begin a murderous rampage against ourselves. Whilst this is put within the prerequisites of a science fiction plot, this element is a perfect allegory for humanity's real life situation and it is this aspect that makes the film so unsettling. The supernatural aspect of the narrative makes the film subtly eerie and even the rather outdated special effects don't detract from the thrilling and unnerving tale... Definitely one not to miss!
03. THE CURSE OF FRANKENSTEIN (1957)
The Frankenstein tale is often a misinterpreted story in film and whilst Hammer's original take on it is far from a faithful interpretation of
Mary Shelley's
novel, there is something in it that screams of authenticity. The gothic tone of the setting blends perfectly with the macabre nature of the narrative, to produce a film that is both visually impressive (particularly for one with a rather meagre budget) and narratively engaging. Paired for the first time, Hammer stalwarts
Christopher Lee
and
Peter Cushing both
give stellar performances. Lee plays the monster with great depth, making the character far more than a hideous fiend. With little more than the use of his eyes to express emotion, Lee manages to instil a sense of humanity within the creature. Cushing as Frankenstein is the exact opposite, filling the scientist with a maniacal and unsettling menace that permeates through the more humane aspects of his character. Together the actors give this twist on the Shelley formula an exciting feel and the film is one of Hammer's slickest productions.
02. THE VAMPIRE LOVERS (1970)
For all you (fellow...) perverts out there, this should probably be number one! The first of Hammer's 'Karnstein Trilogy', this film combines lesbianism and vampirism in a sexy tale of obsession and bloodsucking! Starring the voluptuous Ingrid Pitt - one of Hammer's most popular female stars, despite the fact that she only starred in two features for the studio - the film is rammed with innuendo and thinly veiled sexual imagery. Pitt's character, Carmella, is characterised as a predatory black panther as she seduces and preys on the blood of the unsuspecting Emma, and lesbianism is quickly defined as a plague like affliction that spreads rapidly. Full of gothic atmosphere and a crackling, sexually charged narrative that combines tension and action,
The Vampire Lovers
is a film that suggests that films about fanged villains don't have to focus on Count Dracula alone. The film is engaging and enjoyable, with solid central performances from a host of Seventies British beauties including
Kate O'Mara
and
Madeleine Smith
. The critique on lesbianism and bisexuality (Carmella is not solely aroused by women) may seem antiquated to contemporary audiences, if not a little derogatory, but this doesn't take away from the fact that the film plays on all the right horror conventions that Hammer were associated with!
01. HORROR OF DRACULA (1958)
The Universal Studios/Bela Lugosi classic from the 1930s may be (rightly?) regarded as the quintessential vampire film, but Hammer proved that us Brits were equally adept at making films about the Transylvanian Count. With the passing if time and relative relaxation of strict censorship rules, Hammer's Dracula is a far more perversely erotic film, with sexual innuendo in abundance but without being overtly explicit. Lee donned the famous cape for the first time here, in a move that would see him return to the role a further six times and becoming the one character he is most commonly associated with. As with previous productions in this list, Hammer managed to achieve the perfect blend of gothisism and tension to produce a film that retains its unnerving atmosphere to this day. Whilst the subsequent sequels slipped further and further into the realms of tongue in cheek camp, the original film is certainly Hammer's strongest offering in the series.
WhatCulture's 31 Days of Horror 2, a month dedicated to the horror genre in the run-up to Halloween has begun. Check out our articles so far here;
After Dark: Tod Browning€™s FREAKS (1932) Review
WIN: WAR GAMES On DVD, We Have 3 Copies To Give Away
Mr Fear€™s Games You Can€™t Play Alone #1: PROJECT ZERO II: CRIMSON BUTTERFLY
SHARK NIGHT 3D Review: A Toothless Mess Of A Film
12 Most Over-Used Horror Clichés
Want to write about 31 Days of Horror? Get started below...
Create Content and Get Paid
---