20 Timeless Bruce Springsteen Songs
A rundown of The Boss's finest work.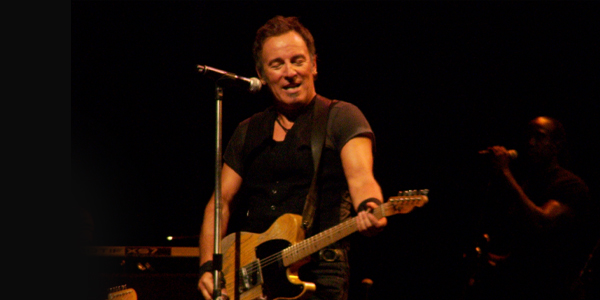 Bruce Springsteen's legendary E Street Band was officially inducted into the Rock and Roll Hall of Fame this past week. For many this was long overdue as Bruce himself was inducted in 1999, but fans have been waiting several years for his backing band to receive the same honour, a wrong that was righted this past Thursday (April 10th) at Brookyln's Barclays Center.
With the recent honour his long time band received, there' no more perfect time to look back at the career of The Boss himself. It's a career that spans an amazing six decades; from his earliest days as a teenager playing guitar in the Castiles to his triumphs with the E Street Band, Springsteen has left a legacy in music that few can rival.
So in that vein, here's a collection of Bruce Springsteen's best work.  Some of these tunes are well known, some of them lesser known cuts that only the hardcores will be familiar with. Either way, choosing only twenty songs out of such a vast catalog is quite a challenge. It was inevitable that several quality songs would be left off. Do you agree with the selections? Disagree? Let us know in the comments below.
20. Lost In The Flood (1973)
The 70s were a decade of stark contrast for Bruce Springsteen. He started off the decade just barely scraping by, playing small clubs on the Jersey shore. He ended the decade as one of the most famous musicians in America. Bruce's first album (Greetings From Asbury Park) was a flop by most contemporary standards. Bruce already had a somewhat legendary reputations on the East coast for his live shows at the time of the album's release, and the knock on his first album was that it didn't quite capture that live sound which had built him a cult like following.
Many of the songs off of his first record have become more revered as they have aged. Lost In The Flood is one of these songs. It is the live version that sets this song apart. Bruce and the band famously played this song for the first time since 1978 during their ten night stand at Madison Square Garden in 2000. That particular version of the song, featured on Disc 2 of Live In New York City, is the definitive version. Unable to locate that particular version on Youtube, we have included the 1975 performance from London's Hammersmith Odeon above.
19. Incident On 57th Street (1973)
Springsteen's second album (The Wild, The Innocent and the E Street Shuffle) almost sounds like a jazz album at times. In fact, it could be argued that this is one of Bruce's most dynamic albums. It was a little bit closer to that famous live sound of his band. His songwriting is spectacular, and nowhere is that more evident than during Incident on 57th Street.
This song has long been a song that hardcore Springsteen fans "chase" as they travel to see Bruce multiple times around the globe. It is a pretty rare occurrence when he pulls this one out during the setlist, and if you are lucky enough to see it performed you are in for a treat.
The live version of the song (as is often the case with Bruce) puts the song on a whole different level. It is a beautiful story about two young lovers having a rough time with life. Play the youtube version linked above and listen to the words and story being told. Stay tuned for the final guitar solo that ends everything on such a climactic note.