50 Red Hot Chili Peppers Songs Never Released As Singles That Every Fan Must Hear
With 30 years in the game (we know!), The Chili Peppers have a hugely enjoyable catalogue that extends far beyond the radio hits.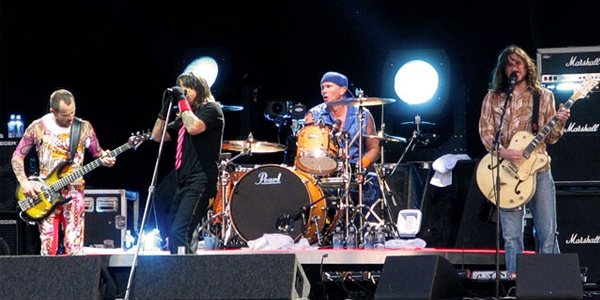 Red Hot Chili Peppers has been a massive name in rock music for decades, with this year marking the 30th anniversary of their debut album, The Red Hot Chili Peppers. Since then, the band has included fourteen different members in several different line-ups, with bassist Flea and lead singer Anthony Kiedis being the only consistencies since this first record. To date the band has won seven Grammy Awards and sold over 80 million records across the world, after first gaining worldwide success with their 1991 album Blood Sugar Sex Magik, and was inducted (along with several of their past members) into the Rock And Roll Hall Of Fame in 2012. On February 2nd 2014, the band joined Bruno Mars to play during the halftime show at the Super Bowl, causing some controversy when it was noticed that their instruments were not plugged in, with Flea releasing a statement saying that they didn't want to mislead the audience, outing the Super Bowl for always featuring pre-recorded music. With ten studio albums released so far, along with a large catalogue of B-sides and album session songs released, the band has taken on several styles of music over the years, while also slowly evolving from the punk-y funk-influenced years of the 1980s to the more mellow rock sound fans are now familiar with, having also released songs identifying as R&B, soul, heavy rock and country. Now in the studio again working on their eleventh studio album - expected for release within the next twelve months - the band is comprised of Kiedis, Flea, drummer Chad Smith; now in his twenty-sixth year with the band, and guitarist Josh Klinghoffer who joined in 2009 after having worked with the band as a sideman on their Stadium Arcadium tour. This article will pick through every release made by the band to rank the 50 best Red Hot Chili Peppers songs never released as singles, including every song made available to the public that hasn't had the opportunity to chart on its own (therefore including B-sides and session songs, for example the I'm With You Sessions released throughout 2012 and 2013). So let's begin!
50. Millionaires Against Hunger
https://www.youtube.com/watch?v=Gt7y_oiQMy8
Album:
Knock Me Down (1989, B-Side) Millionaires Against Hunger was originally recorded during the sessions for Freaky Styley, the Red Hot Chili Peppers' 1985 follow-up to their eponymous debut album produced by the legendary George Clinton. The song was then released as an iTunes Bonus Track when Freaky Styley was remastered in 2003. Its fast-paced funk style was archetypal of the Chilis when they recorded it, hence the collaboration with George Clinton, with their style becoming more rock-y, and more like we know the band today, by the time it was released as a B-side on Knock Me Down, a single from 1989's Mother's Milk.
49. Yertle The Turtle
https://www.youtube.com/watch?v=wMszK6IYymo
Album:
Freaky Styley (1985) Yertle The Turtle And Other Stories was a 1958 story collection by Dr Seuss, the eponymous story of which was adapted by the Chilis for their song named the same. The original story - as well as the song - tells the tale of Yertle, King of the Pond, who wants to be high enough to see his entire kingdom, and so demands that other turtles sit beneath him to raise him on a turtle-throne. One of the turtles making up the throne, Mack, asks for respite but is given none, and when he sees the moon rise that night he is infuriated by anything being higher than him and decides to call for more turtles to join his throne. However before he can, Mack the turtle burps and throws Yertle off of the throne, crowning him King of the Mud and freeing all of the others. Again, the song brilliantly represents the Chili's funk origins, as the final track of their George Clinton produced album.
48. Johnny Kick A Hole In The Sky
https://www.youtube.com/watch?v=thiN_I-7OxQ
Album:
Mother's Milk (1989) Mother's Milk signalled a shift towards more rock-influenced music after the Chilis' first three albums, with Johnny Kick A Hole In The Sky incorporating a gospel choir into its chorus to give it a very mixed feeling. The lyrics are typical of a lot of Chilis songs - nonsensical on the surface but conveying the core meaning throughout, in this case about a man seeking a place in a confusing world while trying to break out into someplace better. The opening of the song - after the initial choral rendition - shows the Chili's tendency to open songs with a bass riff from Flea, widely renowned to be one of the best bass guitar players ever.
47. Grand Pappy Du Plenty
https://www.youtube.com/watch?v=TKhkPHaL8Vs
Album:
The Red Hot Chili Peppers (1984) One of the Chilis' few songs with no lyrics, Grand Pappy Du Plenty was a mellow final track to their otherwise up-beat first album, pre-cursing a lot of the themes that their music would take on later in the band's development. Whilst, in some ways, it doesn't feel like one cohesive song (with a beginning, middle or end), it is a great listen and certainly important in the Chilis' history, as the most mellow on this first, eponymous album, the only album to feature Jack Sherman as their guitarist.
46. Nobody Weird Like Me
https://www.youtube.com/watch?v=gVNzKSsx3j8
Album:
Mother's Milk (1989) Nobody Weird Like Me starts with an impressive bass riff from Flea before jumping into a fast, heavy mood which continues throughout. The song features a mixture of layers, with quite heavy verses and then a classic rock chorus harking back to the bands of the 1970s. It descends to almost nonsense musically before the 3:00 mark before returning for a classic final minute. The song is at the heavier end of the Chilis' discography, unsurprisingly taken from Mother's Milk, their first album to incorporate more of a rock influence.
Sam Shepherd
I'm a British filmmaker (or, at least, trying to be) and about to graduate with a Film Studies degree. Most of the time I should spend working is actually on Netflix so I obviously have loads of life experience to share with you lovely people.
See more from Sam