Reef Interview: Revelation, Songwriting, Collaborations With Sheryl Crow & More
Gary Stringer and Jesse Wood dish the dirt.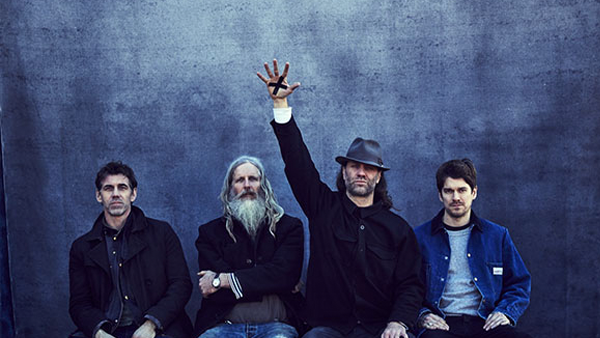 The sound of a Revelation. Glastonbury, England's psychedelic alt-rock visionaries Reef sound-tracked a generation worldwide in the late 90's with their gold and platinum selling albums Replenish and Glow among others before taking an hiatus from 2003-2010. Since then the band have continued to take their feelgood live performances around the world, with fans repeatedly asking the questions for new music while they enjoy the hits of Place Your Hands, Naked, I Would Have Left You and more.
Now eighteen years since their last studio release, the band are back with their fifth studio album Revelation. Morgan Richards spoke to vocalist Gary Stringer and new guitarist Jesse Wood on their UK tour about the albums importance, the pressure of releasing new material after all this time and collaborating with the likes of Sheryl Crow to Skindred...
So after eighteen long years you've finally released your highly anticipated and fifth studio album Revelation. After all this time, I'm sure you're both just ecstatic to get these new songs out and share them with everyone?
Gary: Yeah it is. It's been a long time coming for us, since starting to write the record, putting it together and getting George (Drakoulias) involved to help with production, getting involved with record companies again and management. Everything seems to have grown really nicely but yeah, you're quite right. When you've been working on something for a couple of years and its finished, there's a point where no one has heard it yet. So now is the time where it's starting to come out and reach people. My Sweet Love, the singles like Revelation has gone out for people to listen to and it's great to share what we think is a wonderful album with everyone else.
You had been writing this album over the last three years, getting ideas together and testing them out at gigs to see their live feel. Because it had been so long, did you all feel somewhat extra pressure this time around or was it just trying to make the best Reef album possible?
Jesse: Well I'm still reasonably a new member so for me, I've been in the band for four years exactly now and for me it was a different kind of pressure. I've kinda integrated into the band, so I guess it's a slightly different band with me in it. Gary would know the other part of that answer really, what would you say?
Gary: I didn't see it as pressure. Just because it's what we've done for over twenty years, you know. I think part of your question when you mentioned trying to make the record as good as it could be, that's exactly it as a songwriter. As a band you want to play as well as you can, you want to make each gig as perfect and impossible as that is as best it can be. You want to make each song the best it can be. If Jesse comes up with a riff or we're jamming something in the room or someone's got a melody, its "What is that, how do I make it into the best thing it can possibly be and connect with people".
And did you feel testing those songs out live in front of audiences really gave you the momentum and identity of what you wanted this album to be?
Jesse: Yeah because in our set it would see if they would fit into the older Reef songs, the classic songs and once they fit into the set once we started rehearsing them and played them to the crowds and literally look at their faces or feel in the air or the energy of everything. We just thought "yeah yeah, we're liking this" and it just all grew together really. Some were quite old that we wrote over the last couple of years and some were quite new ones at the end of our writing process.
The album features a stunning collaboration from the one and only Sheryl Crow on the track My Sweet Love. Can you tell me how that came together?
Gary: Certainly! So we started recording the record, we did some bits in London and Wilshire and a couple bits in LA and we ended up in Ireland the last three weeks to really finish the record off. Doing majority of the vocals and decent amount of the guitars. Finishing off we actually put down My Sweet Love as a full song, its finished, I've sang the whole thing and we've come down one morning and George is smoking his pipe, musing and suggested that maybe we can do this as a duet. Like a call and response idea is what he had. George being George, you listen to him and also George being George he picks up the phone and suggested Sheryl Crow and rang her. Likely she liked the song and sang a couple weeks later in Nashville. It was just amazing to hear her sing and the result is fantastic.
Speaking of collaborations, Gary you just recently featured on the new single Machine from Skindred. Is it quite nice getting to work with musicians from other genres on the heavy rock side and everything else?
Gary: Oh yeah mate, big up the Newport massive! For a start, I love singing. I heard the song and straight away I knew it was just a great song so I wanted to be involved with it. I was really stoked they asked me actually. They're a brilliant, brilliant band, really cool human beings and I enjoyed my day in London recording with them and bumping into them afterwards to do the video as well. I think it's a really good song and it's a great album too.
You've always been a band that have attracted different styles of audiences and reflected that into your music, expressing all your musical influences to not just rock. As a band, is that quite refreshing being able to expand and not stick to one kind of sub-genre?
Gary: For me, I like creating. That involves all sorts of styles, I started listening to early ACDC and metal when I was growing up and discovered Aretha Franklin, James Brown and all of these different musicians. I don't know why you'd want to do just one thing but I'm also aware that we're in a band that caters to that. I mean, we're always going to sound like Reef but on this record, even if you take these two singles Revelation and My Sweet Love, they both feel a bit different. Ones a rock n roll song and the other is almost a country vibe but there's also R'n'B on the record as well as heavier stuff too. So yeah, why would you just want to do one thing, it works for me to do all sorts and I'm very proud of the record.
With all this you're going to be very busy now just continuing to tour and promote the new album but what else can we expect from Reef now for the near future?
Jesse: We're going to go to further shores after this UK tour, we're going to go to Australia and Japan which will be nice to go play and we're going to keep writing. Keep the flow coming, keep having a good time and keep having fun.
Well that's about it, thanks for taking time out to talk with me.
Gary: Ahh you're alright Morgan, was nice talking to you.
Jesse: Cheers!
--
And there you have it. What do you make of Reef's new album Revelation so far? Were you surprised by their Sheryl Crow or Skindred collaborations? Let us know in the comments!
Create Content and Get Paid
---