Stereophonics – Graffiti On The Train Review
[rating: 3.5] Released: 4th of March Some bands just seem to have that staying power. So many great rock bands…
[rating: 3.5]

Released: 4th of March

Some bands just seem to have that staying power. So many great rock bands have fallen due to disputes leading to their demise or by just simply fading away. Stereophonics have successfully fended off both these pitfalls to be the band they are today. The Welsh rockers have given their loyal following so much to love over the years – the band means a lot to people. And "Graffiti On The Train" gives these feelings even more validity.

The three songs that make up the beginning of this record are perhaps the highlight of the whole album. The opener "We Share The Same Sun" is as good as any opening song on any Stereophonics album. It let's us know immediately that this band still has so much to give when it comes to creating new music. The lyrics have little substance to them but the chorus is powerful as Kelly Jones'  whisky voice cries out "We share the same sun everyday" enchantingly. The guitars are sounding great too. We are then met by "Graffiti On The Train" which is a calmer and darker song. The lyric "Left his lover sleeping, rain falls he's drowning in his secret"  should give you a handle on what kind of atmosphere is created here. "Indian Summer"  changes things up severely, it's a complete contrast from the first two tunes – it's classic indie pop. Kelly Jones said he wasn't planning on putting this song on the album until the people around him demanded he did. Let's be glad for those people because this gives the record a new angle. Jones once said that many of his lyrics are taken from conversations he has had, and I would bet this is the case with "Indian Summer".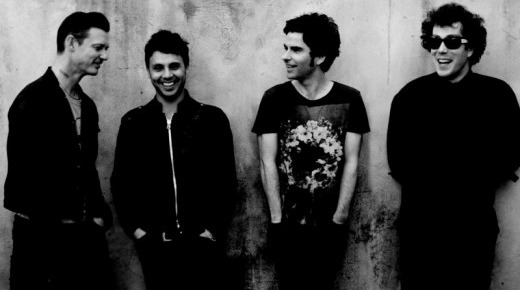 After that one spark of light, the record carries on its trend of being notably dark. This isn't a bad thing, perhaps the untimely death of ex-Stereophonics drummer Stuart Cable may have weighed heavily on Jones' mind as he wrote this. The middle of the album is where things take a slight slump with the loud and angry "Catacomb" being the most memorable. "Violins And Tambourines" is the eeriest song on the album – "Everything is changing, nothing ever seems to stay the same" is just one of the sad murmurs that are divulged throughout.
Thankfully, the record picks up at the end – even though it would have been nice for the band to have kept up the momentum for the duration. The brilliant "In A Moment" gives great strength to "Graffiti On The Train" but of course keeps up this dark and edgy theme.
Top Songs
1. We Share The Same Sun
2.Graffiti On The Train
3. Indian Summer
9.In A Moment
Track Listing
7.Violins and Tambourines
10.No-one's Perfect