KLM Turn King's Day Into The Perfect (Orange) Experience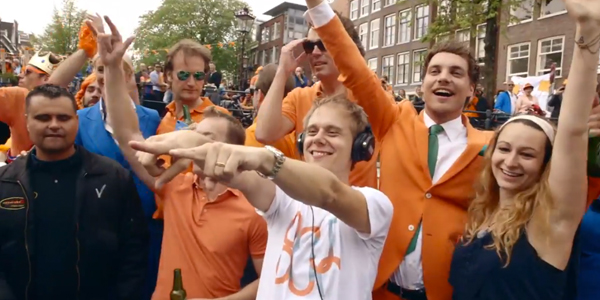 For one day every year, Holland turns Orange for King's Day, celebrating the national holiday with music shows, fairs and a party the likes of which most visitors won't see again. As part of the festivities, Amsterdam is transformed into the nation€™s biggest orange party town, becoming a wondrous street party and citywide yard sale rolled into one, and Dutch airline KLM teamed up with Heineken to share some of the experience with ten lucky American winners, who were treated to the ultimate Orange Experience on King€™s Day in the country's capital. The initial competition was staged fittingly on Amsterdam Avenue in New York, where the airline and beer brand Heineken set up a mini version of the King's Day part, with a flea market and festivities, as passers by were challenged on dance related questions - with the correct few being selected as winners. Their prize came when they gathered at JFK Airport, and were told that they would be flying out to Amsterdam for a packed schedule of entertainment and activities was awaiting, daubed- naturally - in finest orange. On landing, they were ferried to the Heineken Brewery - a genuine mecca for beer fans the world over - before taking a cruise through the city's famous canals, which came with the extra surprising kicker of a cameo appearance by Dutch super-DJ Armin van Buuren, who embarked for an hour€'long private performance... https://www.youtube.com/watch?v=BayJQeTbULY Though you might think that staging your own watery party, with an orange dingy and a Basshunter CD might be the perfect answer to replicating the excitement, there's nothing can beat the Amsterdam experience.
Want to write about No Ads? Get started below...
Create Content and Get Paid
---