College Football: 6 Quarterbacks Who Will Star In 2014
Although the College Football season just ended no more than three weeks ago, it's never too early to speculate what…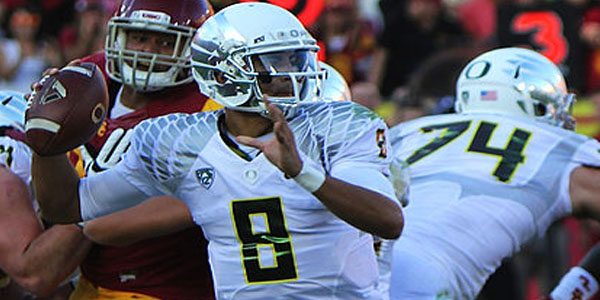 Although the College Football season just ended no more than three weeks ago, it's never too early to speculate what the 2014 season will bring. Could we see another breakout star hit the national stage this year? Or will a familiar face finally fight his way into College Football stardom?
The Quarterback has become one of the most diverse positions in College and Professional Football today, with more and more gifted athletes succeeding at the position each season. There are six QB's who will cement their name among College Football's elite in 2014, and could lead their to a national championship:
Honorable Mentions:
Taysom Hill, BYU (2,938 passing yards in 2013, 53% completion rate, 19 TDs; 1,344 rushing yards, 10 TDs)
The Dual-Threat Sophomore held his coming out party against Texas, rushing for over 250 yards and three scores. If his accuracy improves, defenses will be having fits all season long. Will he be enough for the Cougars to succeed?
Rakeem Cato, Marshall (3,916 passing yards in 2013, 59% completion, 39 TDs)
Cato's name will be among the greats at Marshall with over 10,000 career-passing yards and 91 TDs. He guided the Thundering Herd to their first ten-win season in over a decade. But can he guide Marshall into the spotlight?
Taylor Kelly, Arizona State (3,365 passing yards in 2013, 62% completion, 28 TDs)
Powering one of the top offenses in the nation, Taylor Kelly jumped on the list of top Pac-12 QBs in 2013 when he led the Sun Devils to a Division title. Can he make a Heisman run with quality wins over visiting UCLA and Notre Dame in 2014?
6. Nick Marshall, Auburn
(2013 Stats: 1,976 passing yards, 59% completion, 14 TDs; 1,068 rushing yards, 12 TDs)
Despite not having the benefit of participating in spring practice at Auburn, Nick Marshall still won the starting quarterback job at the beginning of the season. Following several less than perfect starts; Marshall hit his stride and the Tigers offense starting churning on all cylinders. He would rack up over 300 total yards and 4 TDs in Auburn's upset win over then #7 Texas A&M and Johnny Manziel to propel the Tigers into the national spotlight. Several weeks later, Marshall hit Ricardo Louis on a 73-yard Hail Mary to knock off Georgia in what we become "The Prayer at Jordan-Hare".
You think his story is over?
Oh no. It only gets better.
In the regular season finale, Marshall totaled over 150 yards and two scores, with the biggest of the two coming with just 32 seconds left against their hated rival, the #1 Alabama Crimson Tide. Marshall would only be slightly overshadowed by the 100-yard missed Field Goal return for a TD by Chris Davis. Although several of Marshall's biggest offensive weapons are bolting for the draft, including Running Back Tre Mason, expect Marshall to be one of the SEC's best QBs in 2014.