Newcastle
Newcastle Finally Complete Ayoze Perez Transfer – Photos
Pop the champagne corks, Newcastle United have signed a player! Although the Club are yet to officially announce it the Chronicle…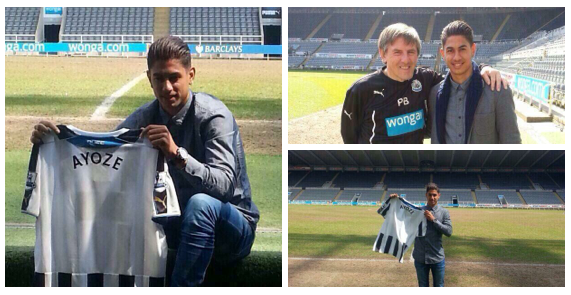 Pop the champagne corks, Newcastle United have signed a player! Although the Club are yet to officially announce it the Chronicle understand that we have completed a deal for Tenerife striker Ayoze Perez.
Photographs of Perez parading a Black and White shirt inside St James' Park made their way around social networks last night in the clearest indication yet that the 20-year-old Spaniard will be a Magpie next season despite there being no official word from the Magpies.
It's understood that Perez will cost around £1.5 million and has signed a four-year contract to become our first permanent signing in 18 months, although he's not the marquee purchase many fans had hoped for.
Still, as Michael Fassbender's character in Prometheus said: "big things have small beginnings".
Also, read into it what you will but the fact Perez was also pictured with Peter Beardsley and not Alan Pardew suggests to us that he will spend the majority of next season in the development squad as was originally forecasted.
Knowing that he will need sufficient scope to adapt to the unsparing physicality of English football and acclimatise to his new surroundings it is perhaps a good strategy from the Club not to throw him in at the deep end.
However, our track record of nurturing young talent permeates any hope that Perez will develop into the player he promises to be after impressing our scouts with 16 goals in the Spanish Segunda Division last season.
But we wish him well, nonetheless.
Visit Our Newcastle Blog