Weekend Premier League Review
The Barclays Premier League returned at the weekend with a bang: controversy, shock wins and of course a set of…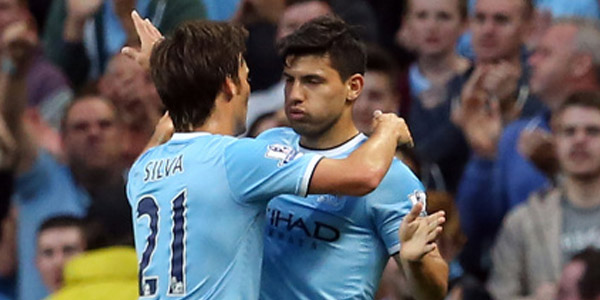 The Barclays Premier League returned at the weekend with a bang: controversy, shock wins and of course a set of new managers that would surprise even the football detractors of the world.
Three of last season's top four sides changed their managers over the summer with only Arsenal's Arsene Wenger remaining, making the Frenchman the longest serving, current, Premier League manager.
The biggest shock obviously came at Old Trafford where after over a quarter of a century in the hot-seat at Manchester United, Sir Alex Ferguson retired leaving fellow Glaswegian David Moyes to take the reins.
At Stamford Bridge we witnessed the return of 'The Special One' or as he now likes to be called, 'The Happy One'.
The third change was at Manchester City where after a poor season for Roberto Mancini, in which he didn't win anything, he was swiftly fired and replaced by Manuel Pellegrini.
Other changes occurred At Everton and Stoke City where Roberto Martinez and Mark Hughes started their new jobs.
The introduction of goal-line technology was another new addition to the Premier League and the system was given its first big test in the first weekend.
The anticipation for the new season had been building all summer with so much expectation from supporters and pundits up and down the country, so what happened in the first set of games of the 2013/14 Barclays Premier League season?
Arsenal 1-3 Aston Villa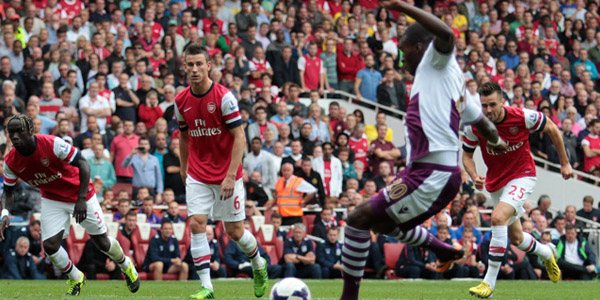 Defensive Mistakes from the Gunners give Lambert's Villa a famous Win
After a summer of struggle to bring in fresh faces to a recognisable Arsenal side, Arsene Wenger was dealt another blow as Aston Villa claimed a comfortable victory at the Emirates. Paul Lambert's side, who many tipped to be relegated this season, produced terrific counter-attacking football and with poor defending from the Gunners, took a notable victory.
Arsenal took the lead thanks to Olivier Giroud but the game was turned on its head when Christian Benteke grabbed two and Laurent Koscielny was sent-off, for a second bookable offence. The win was sealed when Villa new-boy Antonio Luna scored a debut goal to leave the home crowd disgruntled with their sides' poor start to the season.