An Introduction To Grado: The Clown Prince Of Scottish Wrestling
The role of comedy in professional wrestling has been debated ad nauseam by both fans and industry experts alike. WWE,…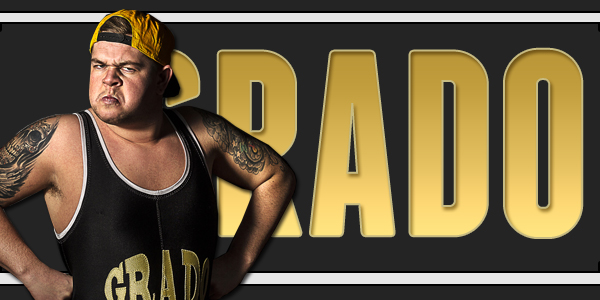 The role of comedy in professional wrestling has been debated ad nauseam by both fans and industry experts alike. WWE, the top company in the business, have used it to varying success over the years. Generally speaking, most involved in the wild and wacky world of wrestling agree that laughs do have a place on the show, so long as they are kept out of the main event spotlight. Characters such as Santino Marella are played strictly for comic drama, designed to be light-hearted relief on what is often billed as the ultimate variety show, pro wrestling.

Outside of the 'mainstream' companies, names such as Colt Cabana have fostered a tremendous mix of in-ring acumen and humour. Although an accomplished technical talent, Cabana's immediately likeable personality often shines through, giving him a connection to the audience which few top-level players can match. Fittingly, Cabana is scheduled to wrestle against the focus of this piece at Insane Championship Wrestling's August 25 event in Edinburgh, Scotland, "Dave's Not Here, Man!".
Beginning his career in 2003, Grado has long been a crowd-pleasing figure, primarily on shows aimed at the wide audience of children and families. Working for established Scottish promotions such as the Scottish Wrestling Alliance, British Championship Wrestling and Premier British Wrestling, the comic book character come to life has perhaps found his greatest success with the aforementioned ICW.
Also appearing for Pro Wrestling Elite north of the UK border and IPW:UK in England, it is with his role as the ultimate underdog in ICW with which Grado has managed to cultivate a true connection to even the most hardcore of Scottish wrestling fans. Distinctly Scottish, the character shares the jocular comedy found in BBC television series such as "Chewin' The Fat", "Burnistoun" and "Still Game", all mainstream staples in most of the United Kingdom.
Uniquely referred to as the "Clown Prince" of Scottish pro wrestling, Grado has seen his career rejuvenated over the past year, quickly becoming one of the most-talked about grapplers on the UK scene, both by fans and peers. Lauded by former WWE star, Nick "Eugene" Dinsmore, among others, Grado's match with Cabana is being looked upon as the ultimate clashing of comedy. Wildly different performers in many respects, Cabana and Grado share a kinship and recipe for success few can argue with; their collective love of comedy and natural charm shines through, making both extremely popular with wrestling fans.
The traits with which the rest of the world might closely attribute to Gregor Fisher's underdog Glaswegian ponderer, Rab C. Nesbitt can be found in Grado. It's a cunning blend of conventional, worldwide comedy mannerisms, married with curiously Scottish quirks which have helped propel this instinctively funny performer into the hearts of the average wrestling fan. Imagine if you will any pro wrestler – in an industry obsessed with traditional 'macho' elements – in 2013 coming down the aisle with Madonna's "Like A Prayer" as entrance music, complete with bum bag/fanny pack around his waist and a baseball cap on backwards. That very sentence sums up Grado in a nutshell.
Designed as a snapshot image of the man, this article misses one key element, that being the visual entertainment of seeing Grado up close, live and in living colour. Any fan of professional wrestling should check out YouTube for video footage, with more information available via Twitter. Follow @gradowrestling for all updates related to the "Clown Prince" of Scottish wrestling, and InsaneWrestling.co.uk for more on ICW.