WWE: 10 Predictions For 2014
We already know about Hulk Hogan & Batista's returns but what else do we think Vince McMahon has up his sleeve to entertain us this year?
2014 is a big year for WWE. It will see some big returns with Batista already confirmed and Hulk Hogan surely not too far behind. It'll also see the long-awaited debut of the Network which will bring 24/7 grappling into our front rooms. Also, we will get the 30th anniversary of WrestleMania, an event so big that the rumour mill has being turning for months now.
After the tepid end to 2013 we finally have a bright six months of wrestling to look forward to as some of the best PPV's of the year go head to head with the builds to the best matches of the year.
Everyone tries to predict and second guess the WWE and sometimes it's predictable (Randy Orton cashing in against Daniel Bryan) whereas sometimes we were completely surprised (Chris Jericho as the number two entrant in the Royal Rumble). So, I'm going to give it a bash.
Some of these predictions may seem a bit, well, predictable but I've also tried to go out on a limb and, at the very least, explain my thinking.
So, here are my 10 Predictions for WWE in 2014
10. The Undertaker Will Face Brock Lesnar In A 'Match Of The Year' Contender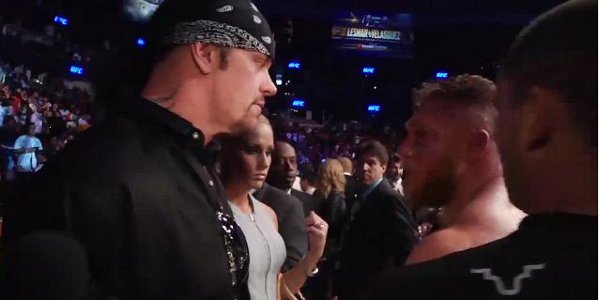 A few weeks ago, this appeared to be a lock but with rumours surfacing that Taker wants to face Daniel Bryan and some backstage concern about Lesnar's stiff, unrehearsed style, all of a sudden this seems less likely. I'm sticking with it though as it's the big-money match for the PPV.
Let's look at how this could play out. They have storied rivalry both in and out of the ring with their 2003 feud being a particularly bloody encounter. Add to that their stare-off at UFC121 and creative could have a good build to the bout. Now, obviously they might not mention the UFC altercation but with Paul Heyman as Brock's mouthpiece, anything is possible. Taker isn't going to break character here (if he didn't do it for the Punk rivalry with Paul Bearer, he's not doing it for anyone) but they could still build that Taker is scared of The Beast after some of the battles they've had in the past.
Brock's style is very different to Michaels, HHH and Punk but the old-school wrestling puncher against the MMA ground and pounder could create some very interesting moments in the build and the eventual match. I see Taker locked in the kimura lock before fighting back with a one-armed tombstone. Will this match happen though? I think it's too big not to happen.