WWE: 10 Reasons Hulk Hogan Should Be Celebrated At Wrestlemania 30
The word is that Terry Bollea is going to make a return at WrestleMania. That, in itself, won't generate much…
The word is that Terry Bollea is going to make a return at WrestleMania. That, in itself, won't generate much excitement. The minute you give him his wrestling name, Hulk Hogan, though and there is a variety of reactions. Some cheer and weep for the good old days. Some shake their heads that he's still going some 37 years after making his professional debut. Some get red faced, angry and vitriolic in their attack of the one-time great and Stallone inducted Hall of Famer. Either way, in a world where the return of Batista gets either a nod of approval or a slight shake of the head, you can always guarantee that Hulk Hogan will get a far bigger reaction.
It's too easy, though, to forget what Hogan has done for the industry. Those with short memories simply choose to remember him 'silently' limping up behind Bully Ray with a crowbar in TNA or, with longer memories, his egotistical destruction of WCW. It could be argued though that he has done far more good than bad over the past thirty seven years and, if he returns at WrestleMania 30, he should be cheered. He should be hugged. He should be celebrated. When you celebrate someone, you remember all they've done for you so, let's have a look at 10 Reasons Why Hulk Hogan Should Be Celebrated At WrestleMania 30 –
10. Thunderlips 'The Ultimate Male'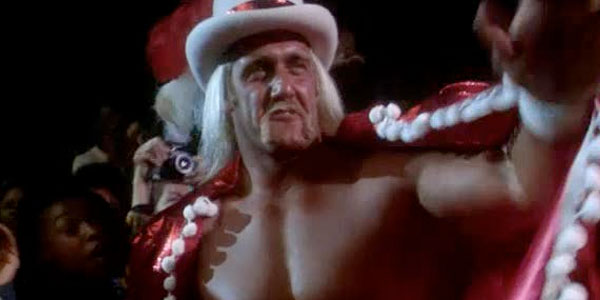 I know, I know. This seems like a strange one to start with but go with me on this one. When Hogan made his initial run with WWF he was largely a heel before going to New Japan Pro and competing for both companies. He was an impressive sight. His long blond hair and now trademark moustache, along with his 6ft 6in stature, made him an instantly recognisable character. With hindsight though, something wasn't quite clicking. Vincent J. McMahon knew he had something in Hogan but couldn't utilise it. Sylvester Stallone knew though and in 1983, Hulk was cast as Thunderlips 'The Ultimate Object of Desire'. The 'Rocky' films were grossing more with each passing entry, almost unheard of back then, so for Stallone to recognise the use of a 'Champion versus Champion' battle to start the film was a stroke of genius.
For a mainstream audience to see this monster (billed as 6ft 8in) against 5ft 9in Rocky was a money-making mainstream sight. For audiences perhaps not used to watching wrestling, it brought this larger than life character to a whole new demographic, many of whom probably started watching WWF because of it. Hell, every week there is a 'Rocky story' in wrestling (Daniel Bryan's whole career is built on it). Not only did it begin to make Hogan, and wrestling, mainstream, it also brought interest from new WWF owner Vincent K. McMahon and with it, Hulkamania. The importance of this one scene in a hit Hollywood movie was made even more apparent when Stallone inducted Hogan in the 2005 Hall of Fame.