WWE: 10 Reasons The Undertaker Vs Brock Lesnar Will Rule WrestleMania 30
For all the "CM Punk!" and "Boo-tista!" chants on this week's WWE programming, the closing segment on Raw may have…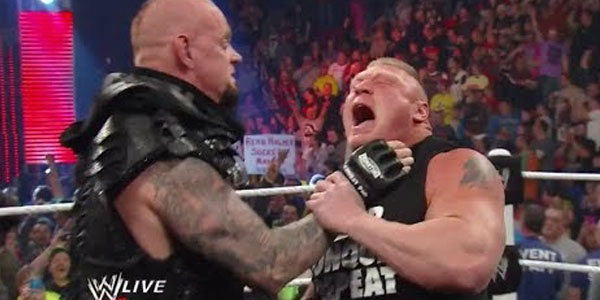 For all the "CM Punk!" and "Boo-tista!" chants on this week's WWE programming, the closing segment on Raw may have been a symbol of hope for those who feel WrestleMania XXX is in jeopardy of having a terrible card.
The contract has been signed, practically in blood, a teaser for the level of animosity between Taker and Lesnar. Spoilers be damned, no matter how many people expected Taker to come out, the sound of that gong brought a chilling excitement to us all. HE'S BACK. And though the haters may say that The Undertaker is past his prime, and Brock Lesnar has few skills to offer, I feel confident that their match at WrestleMania XXX could well be the best that night.
How poetic that these two will (finally) clash at the milestone event, and what fun we'll have watching them build to it. Let's examine the reasons why Lesnar/Undertaker will be the best match at Mania.