WWE: 5 Ways To Make Randy Orton vs. Batista Work At WrestleMania 30
Let's assume right now that the WWE actually go ahead with the Randy Orton vs. Batista match for the WWE…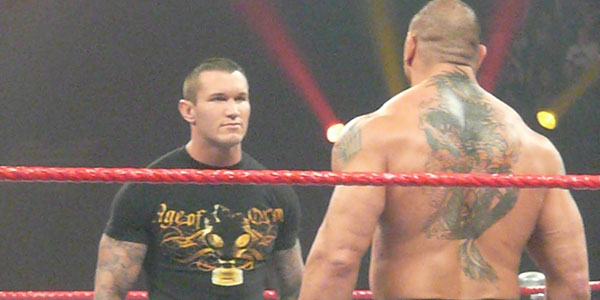 Let's assume right now that the WWE actually go ahead with the Randy Orton vs. Batista match for the WWE World Heavyweight Championship at WrestleMania XXX. It's not a match right now that is appealing to most of the fans. Orton is the heel champion defending against Batista, who is meant to be the babyface, but is also getting booed.
The fans have reacted badly to Batista since and during the Royal Rumble, which he won, due to the fact that they wanted Daniel Bryan in that match and as the winner, not some 45-year-old guy who has rolled back into the company after four years and landing a shot in the main event of the biggest show of the year.
So I'm here to look at ways that this match can be worth watching. Not just things that the WWE can plan, but also things the fans can do – which we will get to – to make this a more satisfying watch than just the two facing off and one of the guys winning, presumably Batista.
These are ideas that do not involve them making it a triple threat match or anything like that. Purely ideas for if they go ahead with the singles match. There's varying levels as to how much difference the following 5 ideas would have in terms of making it a better spectacle, but anything right now has got to be an improvement on what we are currently expecting. So let's get stuck in.