WWE: 8 Most Wildly Dangerous Stunts You Won't Believe Wrestlers Performed
Professional wrestling is all about putting your body on the line.  For generations, the men who populate the wrestling ranks…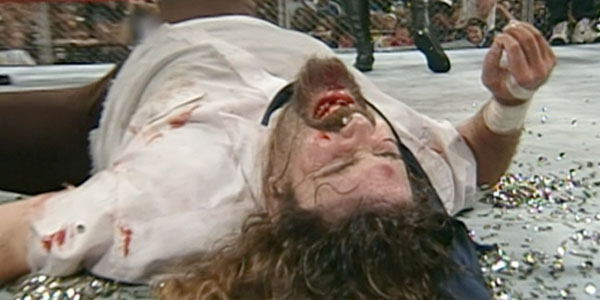 Professional wrestling is all about putting your body on the line.  For generations, the men who populate the wrestling ranks have suffered broken bones, pulled muscles, and concussions over the sport that they love.  Every once in awhile though, a wrestler performs a stunt or move that fans never forget.  Whether it be a move that never should have been tried or a stunt that inv0lves an extreme risk, these moments are forever etched in the minds of the fans who saw them.
This countdown will look at some of the most dangerous (and sometimes unnecessary) stunts that wrestlers ever performed to entertain the crowd and build a follow for themselves.
8. Undertaker vs. Mankind, King of the Ring 1998 – Mankind Falls From The Cell
Might as well start with the most famous one of all, right?  At King of the Ring 1998, the Undertaker took on Mankind in the most infamous Hell in a Cell match in history.  On the advice of Terry Funk, Mick Foley started the match on top of the steel structure and, moments later, was sent crashing through the announce table in a spectacular fall that no one who saw it would ever forget.  The fall literally risked Foley's life and the crowd could actually be heard shrieking as he fell almost 20 feet onto the table.
Most amazingly, the match didn't end there. After a stretcher ride up the aisle, Foley fought his way back on top of the cell and, in a completely unplanned spot, Undertaker chokeslammed Mick through the roof of the cell.  The ceiling gave way and Foley crashed to the canvas below, landing completely sideways and looking like his career was over.  Foley has since said that this second fall was actually worse than the first, as he suffered internal injuries and does not remember the rest of the match.
The fact that Foley survived the fall without permanent injury is somewhat remarkable and highlights of this match will be shown for years to come.