WWE: Analysing The 5 Networks WWE Is Negotiating TV Rights With
As $WWE Stock continues to soar high, analysts eagerly await news on the future of WWE's domestic television contract. In 2013 WWE earned almost $106M in Domestic TV Rights, growing $46M in just seven years. The growth has been a combination of new programming (
Total Divas
,
Main Event
), expanding current programming (
adding 3rd Hour of Raw
) and contracted rights fees increases.
Raw
and
Smackdown
contracts with NBCUniversal will expire in September 2014. Previously, the two flagship shows were on different cycles.
Raw
moved from NBCU's USA Network to Viacom's TNN (later SpikeTV) in September 2000.
Raw
returned to USA in October 2005 where it has remained for nine years including adding a weekly third hour in July 2012.
Smackdown
has bounced around from UPN (August 1999-September 2006), CW (September 2006-October 2008), MyNetworkTV (October 2008-September 2010) to SyFy (October 2010-current). This will be the first time that both shows will be contractually able to move in tandem to another network should that prove to be "best for business". (See also my
History of WWE Programming
.)
Timing Is Everything When It Comes To Television Negotiations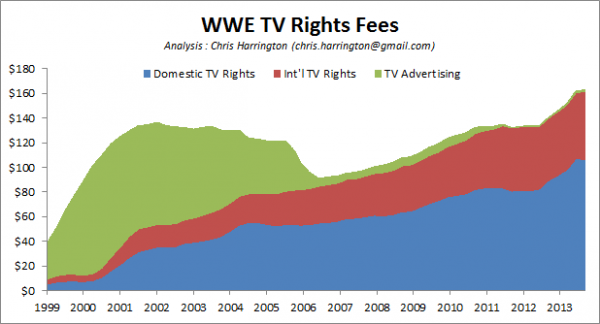 In 2005, Spike pulled out early during the television negotiations when it became clear they were falling behind and WWE was left scrambling to find a new home for
Monday Night Raw
.
Other networks, like Turner Broadcasting, showed no interest. USA knew they had the upper hand and ultimately the deal that WWE signed resulted in significant decrease in their overall TV Rights + Advertising revenue as that deal stripped WWE of virtually all of their domestic Advertising revenue (resulting in more than a drop of more than $30M from 2005 to 2006). This round, WWE is banking on two points: (1) WWE programming, particularly
Raw
, gets a lot of viewers with their weekly original content. Most viewers are watching live so it's "DVR-proof". (2) Sports Programming is hot right now and networks are scrambling to lock up them up for large, multi-year deals. By starting negotiations early, bundling their biggest programs and pushing the "
WWE is just as valuable as Live Sports
!" narrative, WWE has spent the last year telling investors to expect them to "double or triple" their Domestic TV Rights fees. They want a
huge deal like NASCAR
($8.2B/10 year). Importantly, the key to a big increase is ensuring that multiple bidders that are pushing the price up.
What's On The Table?
Bidders are looking at five major segments:
A. Monday Night Raw
- After twenty years and more than a thousand episodes, Raw has become a staple of Monday Nights for pro-wrestling fans. Averaged over 4.6 million weekly viewers in 2013 and is often the top-watched show on Monday Night Cable. Networks would need to commit to airing the show live (no pre-emptions), keeping it on Monday nights and likely retaining the 3-hour timeslot. If the money was right, WWE would happily downsize back to two hours, but developing a third hour was done in partnership with USA so it follows that networks want the extra 60 minutes of human chess, along with all of the eyeballs that accompany it.
B. Smackdown
- Since leaving terrestrial television and moving to SyFy in 2010, Smackdown has regularly been the top-rated show on the NBCU-owned network. With more than 2.5 million weekly viewers, it's possible that a new television deal would result in this two-hour show changing days. For logistics, WWE prefers to tape shows back-to-back so Smackdown is taped on Tuesday and airs domestically on Fridays. It's possible that in 2015 this show could air live (Tuesday) or move to another night of the week (Wednesday, Thursday or Friday) depending on the network where the show lands.
C. Total Divas!
- WWE's reality television series focusing on the Divas is currently airs on E! and averages over 1.25 million viewers. The show has helped WWE reach a larger female audience.
D. Main Event / Superstars / NXT -
These tertiary shows have been airing through Hulu and on WWE Network. In addition, Main Event airs domestically on the Ion Network. Saturday Morning Slam was a G-rated 30-minute pro-wrestling show that aired on CW which ran from August 2012 to May 2013. These shows could be "part of the package" but are far less important as compared to Raw/Smackdown/Divas!.
E. WWE Studios
- It's possible that WWE is also looking for more venues to distribute the works produced by their struggling WWE Studios division. The most profitable film of the last two years was the made-for-TV movie
Christmas Bounty
starring the Miz, which aired on ABC Family. WWE is working with Warner Bros. Animation and Hanna-Barbera on producing WWE-themed
Scooby Doo
and
Flintstones
cartoons. They're also releasing several horror movies (Oculus, See No Evil 2, Leprechaun: Origins, Incarnate). WWE may be looking for more opportunities to turn around the WWE Films boondoggle through closer partnerships with a network that could air some of this content.
Who Is Competing?
WWE hasn't said much about how many networks they are negotiations with. They have given some broad timelines - exclusivity negotiations with NBCU ended in February, open negotiations with many networks in March, want to complete details by early April. Most of the details on which Networks might be interested has come from media articles in
Variety
,
NYPost
,
Hollywood Reporter
,
LA Times
and
Bloomberg Businessweek
.
In the rumor-mill, there's been five major conglomerates mentioned: NBCUniversal, Viacom, 21st Century Fox, Time Warner and AMC Networks.
Chris Harrington
I'm a professional wrestling analyst, an improviser and an avid NES gamer. I live in Saint Paul, Minnesota and I'm working on my first book (#wrestlenomics). You can contact me at chris.harrington@gmail.com or on twitter (@mookieghana)
See more from Chris