WWE: CM Punk – Could He Return Monday in Chicago?
This Monday night's edition of Raw is taking place in Chicago, Illinois, which is the home of CM Punk, who…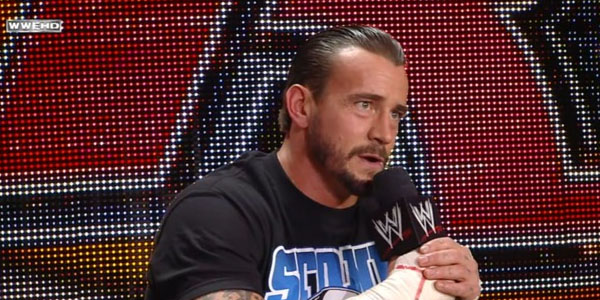 This Monday night's edition of Raw is taking place in Chicago, Illinois, which is the home of CM Punk, who is a a current WWE start that's taking a "sabbatical" according to WWE Chairman Vince McMahon. He's been gone since the day after the Royal Rumble and we don't know if or when he's going to come back "home" to WWE.
There's a report on PWInsider that states when CM Punk was at the UFC pay-per-view in Las Vegas on Saturday, people he talked to seem to indidcate that he spoke of WWE like it was a part of his past.
Last week when Raw was in Green Bay, there was no talk among the talents that anyone would be seeing Punk next week. Punk is not expected to be at Monday's RAW from his hometown of Chicago and there is concern over what the crowd will do without him there.
Monday's Raw is going to be very newsworthy. It's either going to be a big deal that Punk returns to WWE in his hometown or the crowd will be a huge story because knowing the Chicago fans they will likely make a lot of noise all night long. You can expect plenty of "CM Punk" chants during the three hour broadcast.
What's also interesting is that whenever these news reports come out my thinking is if Punk was coming back, would WWE let that leak out to internet sites? I don't think so.
There have been instances in the past where WWE has brought people back as a surprise where they had them sit in a car in the parking lot for hours only to bring them out when it was their time to show up. If CM Punk is going to be on Raw on Monday then it's unlikely that WWE is going to let that news get out there.
There could be a secret agreement with Vince McMahon and CM Punk where Vince told him to go home for a month, recharge the batteries so to speak and come back for the Raw in Chicago. Maybe only a few people know.
If we don't see Punk on Monday we likely won't see him until possibly WrestleMania itself. If he's not there either then really there's no idea when he might come back or if he does at all.
Monday's Raw is a must see because of CM Punk and also because of the Chicago crowd. It shows how important he is to WWE even when he's gone. What will happen? Only way to find out is if you tune in.