WWE Extreme Rules: Watch Seth Rollins' CRAZY Balcony Jump
Seth Rollins lived up to the 'Extreme' moniker of last night's WWE pay per view, diving at least ten feet…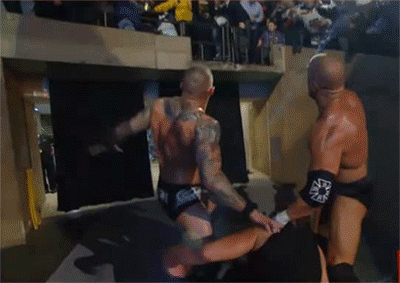 Seth Rollins lived up to the 'Extreme' moniker of last night's WWE pay per view, diving at least ten feet off an arena balcony!
The crazy leap on to Triple H, Randy Orton and Dean Ambrose was the 'Oh my God!' moment of the night.
No doubt about it, Rollins will be feeling the repercussions this morning. The velocity of crashing through three men would have been sore in itself, the resulting impact with the arena floor also offering up a world of pain. The only thing protecting his bones from the concrete was a very thin rug!
This spot was reminiscent of the crazy balcony dives we used to see Super Crazy do back in the old ECW. By recreating the spot, Rollins ended up being the one true star of the Extreme Rules pay-per-view who really embraced the event origins as a hardcore show. There was of course Kane in the main event who went through a flaming table, but for sheer athleticism and dare-devil spirit, we have to give the 'spot of the night' honours to Rollins.
His athletic dive was the highlight from the thrilling Shield vs Evolution match. The six man contest was an eclectic mix of technical wrestling which descended into brawling and eventually full scale mayhem. Reigns, Rollins and Ambrose are individual stars in their own right, their victory over Evolution is just the latest feather in the cap for a trio who seem destined for greatness.
The question has to be asked, is there any better athlete in WWE right now than Seth Rollins? Whether it's mat wrestling or high flying, this guy can do it all… what a moment he gave us last night!