WWE: Fantasy Booking 8 Big Matches For WrestleMania 31
7. Dean Ambrose And Seth Rollins vs The Usos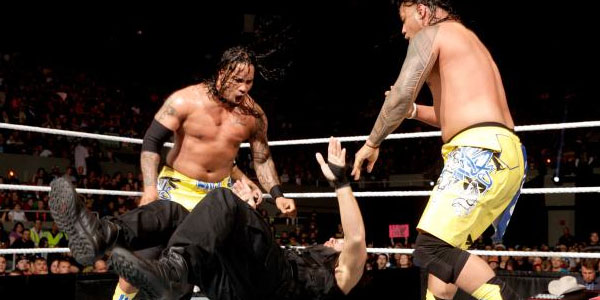 Background: The Usos' first reign as WWE Tag Team Champions comes to an end at SummerSlam at the hands of Dean Ambrose and Seth Rollins, who keep the Shield name despite the ouster of Roman Reigns. The match, a fatal four-way also involving Los Matadores and The Rhodes Brothers, sees Ambrose pin Diego to score the titles for his team. In a two-on-two rematch at Night of Champions, the Usos win by disqualification when Ambrose and Rollins, taking a tactic from a classic team of years gone by, decimate Jimmy Uso with a Con-Chair-To.
Jimmy misses months of action, while Jey tries to get revenge on the Shield to no avail. Finally, Jimmy returns at the Royal Rumble, helping Jey eliminate the Shield from the match. Ambrose and Rollins try to avoid the reunited Usos as best they can, but at WrestleMania, they have nowhere left to run.
The Match: Four of the most exciting young superstars in WWE clash in this hated feud that harkens back to their 2013 battles. The Usos take the lead in the beginning, nailing stereo planchas that send the Shield reeling and delight the California crowd – however, Ambrose and Rollins fight back, isolating Jimmy and doing their best to put him away. Jimmy finally manages to tag Jey, who runs wild on the Shield. They both nail superkicks on Rollins, but Ambrose breaks up the ensuing cover and tosses Jey out of the ring.
Ambrose pulls Rollins up and tells him to dive out at Jey – he does, but Jey moves out of the way, leaving Rollins to crash and burn. Inside the ring, Ambrose goes for his Headlock Driver, but Jimmy Uso shoves him off, then catches him with a Samoan Drop. No sooner does he land than Jey comes off of the top with a big splash, nailing Ambrose and scoring the pinfall.
Winners: The Usos in 16:16