WWE Gallery: Triple H's 15 Most Insane Spots At WrestleMania
Pedigree, Spinebuster, and rearranging Batista's face with a heavy chain and a pair of pliers…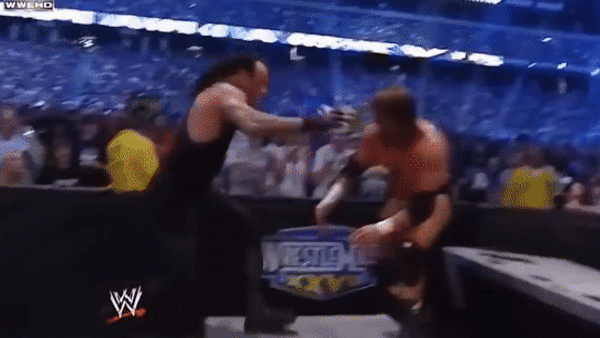 When Triple H competed at WrestleMania 35, it marked his 23rd appearances at the Show of Shows, placing him behind only The Undertaker's legendary 26-match record. However, The Game has lost 13 times at WrestleMania, which is more than anyone else in history.
Three of those losses were against The Deadman. Triple H's attempts to break The Streak led to several memorable spots. At WrestleMania X-Seven, Triple H cracked The Undertaker's head with a sledgehammer to escape from the Last Ride.
The Cerebral Assassin put The Undertaker through the announce table with a Spinebuster at WrestleMania XXVII. In the following year, Triple H hit The Phenom with the same move onto the steel steps.
Triple H's other high-profile matches include battles against former Evolution members Randy Orton and Batista. The King of Kings gave Randy Orton a taste of his own medicine when he booted him in the head at WrestleMania 25.
And at the latest WrestleMania, Triple H saved his career by maiming Batista with a heavy chain, a pair of pliers, and other tools on his way to defeating The Animal…