WWE Hall Of Fame 2014 Class Expected To Include Paul Bearer
The 2014 WWE Hall of Fame ceremony already has two big names announced: The Ultimate Warrior and Jake Roberts. Warrior…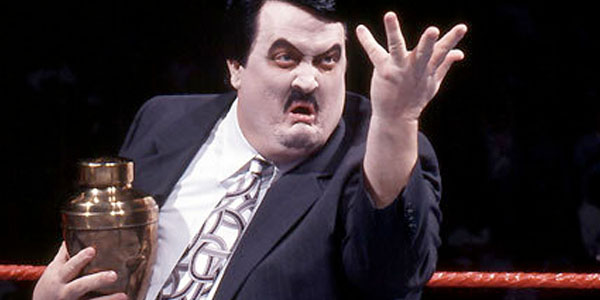 The 2014 WWE Hall of Fame ceremony already has two big names announced: The Ultimate Warrior and Jake Roberts. Warrior is expected to be the "headline" name meaning he would speak last while Roberts is definitely deserving of the honor.
In the latest issue of the Wrestling Observer Newsletter, two more names were revealed in terms of being likely inductees for the ceremony that will be held in New Orleans on Saturday April 5th.
The first name that seems like a lock is Paul Bearer, who passed away in early 2013. It was too late to induct him last year with the group already announced, so it makes sense that it would happen this year. WWE usually tends to induct a nominee that has passed away and Bearer seems like a lock at this point.
Recent Hall of Fame classes have also featured at least one female inductee. The name that Dave Meltzer mentioned was Lita. Obviously with Trish Stratus going in last year, it makes a lot of sense for Lita to be the next one because she was her biggest rival.
It was also written by Meltzer that there could be a third star "the caliber of Roberts & Warrior" could be announced as well. There are obviously a lot of names that fit the bill. Perhaps it could be somebody like Kevin Nash, Scott Hall, Diamond Dallas Page or many other big names from the 1990s. There are a lot of people out there, so it's tough to narrow it down.
We have written about the possibility of the WrestleMania 1 main event being inducted, but that's not a sure thing at this point. It's said that WWE is really hoping that  Mr. T accepts the induction because they've asked him in the past and he had turned them down. He would be a big name in the celebrity wing because he played a huge role in the WrestleMania 1 main event and participated at WrestleMania 2 as well.
Wrestling legend Danny Hodge has also been mentioned as a possibility, but the thinking is that if it doesn't happen this year then it never will. Hodge was a great wrestler in the 1960s, so there's obviously a disconnect between today's wrestling fans and the 81 year old.
Obviously a lot of fans think of the name Randy Savage when it comes to WWE Hall of Fame inductees. Of course he should be in, but his name isn't being mentioned at this point. It seems unlikely right now.
We will continue to update on WWE Hall of Fame news as we get it.