WWE Reveals Surprising Numbers For Extreme Rules
Three interesting revelations in the latest Key Performance Indicators.
Each month, WWE releases (via their corporate website) their €œKey Performance Indicators€ presentation. It provides insights on how the company fared in a number of important categories: live event attendance, PPV buys, digital media and social engagement, Home Entertainment and online merchandise sales. Last month€™s slides had
shocking implications
for the make-up of the WWE Network subscriber base (suggesting that nearly 20% of current domestic service users were actually from outside of the United States.) While the KPI information is presented rather dryly and without commentary, there€™s actually a number of an interesting revelations hidden within this month€™s data.
Extreme Rules Had 107,000 Traditional Pay-Per-View Buys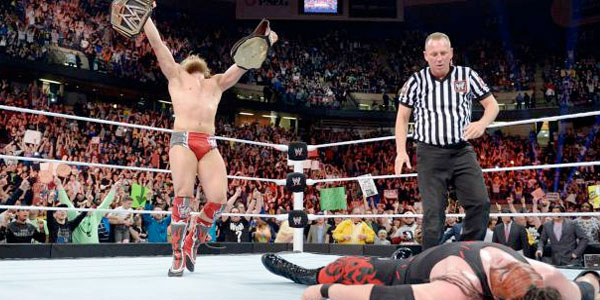 Last year€™s Extreme Rules event (held May 19, 2013 in St. Louis, Missouri) featured a tornado tag team match where Rollins & Reigns conquered Team Hell No (Kane & Daniel Bryan), Randy Orton bested Big Show in an Extreme Rules match, Cena fought Ryback to a no contest in a Last Man Standing match, and two Wrestlemania 29 rematches with Chris Jericho evening the score with Fandango and Brock Lesnar beating Triple H in a Steel Cage match. In total, the event had 245,000 traditional PPV buys split 137,000 North American PPV buys plus 108,000 International PPV buys. This year€™s Extreme Rules event (held May 4, 2014 in East Rutherford, New Jersey) featured the Shield beating Evolution in a six-man tag team match, Bray Wyatt escaping a Steel Cage to defeat John Cena and Daniel Bryan successfully defending his newly won championship against the demon monster Kane. While the event was available to WWE Network subscribers for no additional cost, we learned that 107,000 households purchased the pay-per-view event via traditional means (at full price). Those households were split into 40,000 in North American (which includes Canada where the WWE Network is not officially available) and an additional 67,000 International buyers. First of all, it's interesting that year-over-year international buys for Extreme Rules dropped 38% and domestic buys for Extreme Rules dropped 71%. When you mix them together, overall buys were down by 56%. Some of this drop was to be expected €" the majority of fans who normally would buy B-level PPVs were expected to be the first adopters of the WWE Network. Also, marque star Brock Lesnar did not appearing at this year€™s show. While we don€™t (yet) have an exact split for domestic and international buys for Wrestlemania 30 (which did 690k traditional PPV buys), it€™s estimated that overall numbers were down about 38% versus last year's event (WM29 with 1,104k total buys). North American Wrestlemania buys dropped about 40-50% and International Wrestlemania Buys dropping 25%-33% year-over-year. Again, we're comparing a year with a mega part-time superstar to a year without them (Wrestlemania 30 didn't have the Rock wrestling and Extreme Rules 2014 didn't have Brock Lesnar wrestling). When you combine the star power drop with the launch of the WWE Network, and traditional PPV buys were really expected to fall.
Yet, They Didn€™t Drop As Much As Expected - Especially In The International Sector
Consider that last year's B-level PPVs (the ones that didn€™t have a Hell in a Cell match, or part-time superstar like Brock) averaged around 181,500 worldwide buys. United States and Canada (what WWE calls €œdomestic€ or €œNorth America€) buys were a little less than two-thirds of that, about 116,000 buys. (By process of elimination a trusty calculator should confirm that International buys averaged about 65,500 per B-PPV.) Internationally, this year€™s Extreme Rules event was basically at the normal level for a B-PPV (67,000 reported versus baseline of 65,500). Domestically, Extreme Rules 2014 was about 76,000 buys off the 2013 B-level baseline. That's significant. If we assume that Canada was somewhere between 5% (5,800 buys) and 10% (11,600 buys) historically, that would imply that somewhere between 28,000 and 34,000 buys for Extreme Rules 2014 came from United State households. Those households paid full price! Also, recall that availability of this PPV was diminished as Satellite providers (DirecTV and Dish Network) refused to carry the PPV. The 31,000ish US homes represents people who bought the PPV through an inDemand provider (or another full-price method). These would appear to be the people who will not or cannot get the WWE Network (broadband restrictions due to their location? concerns with the six-month commitment? ) but care enough about the product to pay the full price just to watch the show. Surprising. Based on historical revenue per buy information, we know that WWE grossed at least $1.7M (post-split) via traditional PPV revenue from Extreme Rules 2014. Overall this Extreme Rules number demonstrates a very important point €" about a third of your hardcore, regular PPV purchasers in your domestic base haven€™t yet adopted the WWE Network. Why not? What can WWE do to convert those households? And will getting those households really make much of a difference reaching a million subscribers by year's end?
Attendance Trends Are A Mixed Bag
This month I€™ve written a lot about the dangers of WWE becoming too stagnant €" particularly in their television programming. We€™ve seen evidence of this malaise
in the live event attendance trends
. This month's KPI finally had some good news for the WWE. Average attendance of North American live events (25 events in April & May, but excluding Wrestlemania 30) was at 6,700/event which was up from last year€™s 2nd Quarter average of 5,300/event. That€™s a very good sign for WWE. However, things aren€™t looking so terrific in the international touring arena. The average live attendance for international WWE events was 6,100/event. That's down 7.5% from last year€™s 2nd quarter average of 6,600/event. This is most troublesome because until recently the idea that domestic live attendance would eclipse international live attendance was completely unheard of. And yet, the trend continues. Given the increased value per head of an international fan, WWE should really be alarmed about this development.
Wrestlemania Continues To Sell Units; Goldberg > Ultimate Warrior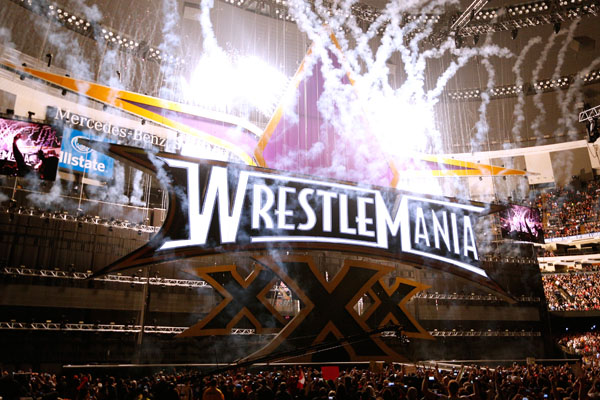 With the WWE Network offering instantaneous, on-demand access to PPV replays, it was unclear how much that would impact the already-addled DVD/BluRay marketplace for WWE releases. Would people just stop buying DVDs and Blu-Rays - particularly those that were just centered around one event? Currently, the top seller, with 125,000 units shipped, is the recently released €œWrestlemania 30€ disc. This isn't surprising as Wrestlemania usually moves the most units of any release each year. I was more shocked that the Ultimate Warrior€™s disc (which was released one month prior to WM30) has only shipped 78,000 units thus far. Compare that with Goldberg€™s release (from October 2013) which has already shipped 114,000 units overall. (Meanwhile Triple H€™s latest: Thy Kingdom Come has only shipped 67,000 units.) While Warrior's numbers may grow, I would have expected that with his untimely death and the nostalgia factor surrounding him, this project would (and should) have done better. I believe WWE will see this as further proof towards the notion that the people left spending their money on the WWE are interested in Attitude-era stars such as Goldberg more than older legends.
Want to write about John Cena and Extreme Rules? Get started below...
Create Content and Get Paid
---
Chris Harrington
I'm a professional wrestling analyst, an improviser and an avid NES gamer. I live in Saint Paul, Minnesota and I'm working on my first book (#wrestlenomics). You can contact me at chris.harrington@gmail.com or on twitter (@mookieghana)
See more from Chris