WWE: Sting Signs Deal?
Updated: SportsRants.com writer Anthony DiMoro is now also reporting that Sting has signed a deal with WWE, which would also…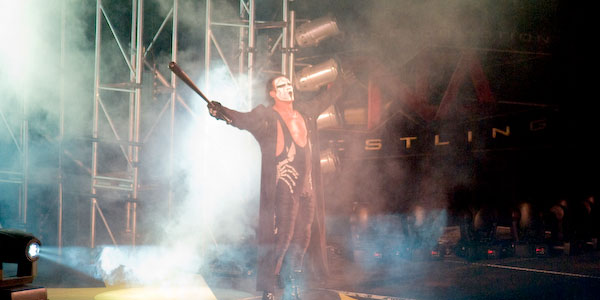 Updated: SportsRants.com writer Anthony DiMoro is now also reporting that Sting has signed a deal with WWE, which would also include a Hall of Fame induction.
Here's the update;
"I have heard it from a good source that Sting and WWE have actually agreed to a deal, including a WWE Hall of Fame induction. The Hall of Fame induction may not come in 2014, but possibly 2015 as WWE may want to feature Sting and get the fanbase familiar with him on WWE Television over the next year so that his induction is even more special. I anticipate a career DVD will also be in the mix later this year as well as a heavy presence of Sting on WWE Network."
Sting has finally signed a deal with World Wrestling Entertainment according to Rob Feinstein of RF Video.
Despite reports elsewhere claiming that Sting will make a decision on joining the WWE in the next two weeks, Feinstein instead suggests the former World Championship Wrestling and TNA legend is finally working with Vince McMahon after literally years of on again off again negotiations and speculation.
Feinstein posted an update on his Facebook page that read;
I was just informed Sting has signed a deal with WWE in the last 24 hours. I still think personally he will show up after Mania since it seems like Undertaker vs Brock is what they are aiming for. Reminds me when everyone thought Brock would debut in Miami but they waited for Raw.
Although this remains 100% unconfirmed it is the nearest we have come to actually having Steve Borden under the WWE banner and if these rumours are in fact true then it could be a very exciting build up to Wrestlemania 30 if McMahon has plans to include him.
It was believed that Sting had signed a deal a few years ago after the WWE began running vignettes that seemingly hyped his debut. Ultimately those vignettes turned out to be for a returning Undertaker but it became clear to Vince et al that fans were serious about having Sting compete at a Wrestlemania sooner or later preferably against The Phenom himself.
It is clear to many fans that Sting's best years are long gone and any chance of a Sting/Undertaker match that comes anywhere close to 'Takers recent battles in highly unlikely. However this does not stop fans and insiders alike buzzing over the potential for such a clash of the titans and with so few genuine once in a lifetime match up's left to draw upon in the modern era of wrestling it would seem signing Borden now is the last chance any of us have of seeing the 2 legends go face to face. For now though we will all have to wait to see if this is more than a case of another year another Sting rumour.
Let's keep our fingers crossed that in 2014 it will finally be "Showtime".