WWE: Why Ukraine Troubles Could Make Rusev And Lana Stars
Stereotypes: it's what the wrestling business has always thrived on. There's no easier way to get a fast reaction out…
Stereotypes: it's what the wrestling business has always thrived on. There's no easier way to get a fast reaction out of a fan than to throw a stereotype their way, and if you can capitalise on 'real world' events at the same time, even better.
The 'foreign menace' heel has been around wrestling since time began. After the Second World War, a variety of German heels such as Fritz Von Erich (Jack Adkisson, an American), Hans Schmidt (Guy Larose, Canadian) and Baron Von Raschke (Jim Raschke, another American) were top of the bill all the way into the 1960s. With the advent of the Cold War came a new troupe of Soviet heels, such as Ivan Koloff (Oreal Perres, Canadian), Krusher Khruschev (Barry Darsow, American) and Boris Zhukov (Jim Harrell, American).
The Gulf War in 1990 saw veteran wrestler Adnan al-Kaissie cash in on his legitimate Iraqi heritage to lead American turncoat Sgt Slaughter and Col Mustafa (Iranian, the legendary Iron Sheik) against the flag-waving American hero, Hulk Hogan. When the second Gulf War broke out in 2003, the French famously refused to participate, drawing the ire of Americans all around the country. This led to the creation of La Resistance, a French-Canadian heel tag team whose support for France and criticism of American foreign policy was enough to catapult them to a brief run with the WWE World tag team titles. But that was nothing compared to the furore surrounding the Arab-American character of Muhammad Hassan (portrayed by an Italian-American called Mark Copani, accompanied by Iranian-American Shawn Daivari), who was eventually removed from WWE programming when the company failed to edit out a 'terrorist' attack on The Undertaker that aired on the same day as the London bombings of July 7th 2005.
So, as you can see, the ethnic authenticity of the foreign menace heel has never been a problem for wrestling promoters, and the fact that Alexander Rusev is Bulgarian, and his manager, Lana, is American, shouldn't pose a problem at all. Lana did, however, spend a large portion of her childhood growing up in Latvia and so can handily speak fluent Latvian, which can easily pass for Russian to uneducated ears. Vince McMahon, always eager to exploit a stereotype, may be hoping that the situation in Ukraine escalates into a military conflict involving the United States. The WWE is always keen to support the military with its affiliation with The National Guard and its annual Tribute to the Troops show and Rusev would make the perfect foil for the WWE's usual stance.
It's no coincidence that Rusev's brief appearance on Raw this week involved a promo in a foreign language and his name being written in the Cyrillic alphabet, which Bulgarian shares with Russian. So already, the wheels are being set in motion to position him in fans' minds as being Russian aligned.
Time for me to use a stereotype myself now: Americans generally aren't renowned for their knowledge of world geography. So it's highly likely that Ukraine, Russia and Bulgaria will all be meshed into one compartment called "Eastern Europe" or "a long way away". Getting heat for Rusev and Lana for being a foreign, anti-American threat will be easy, and a babyface could get the fans right behind him just by bringing out a big Hacksaw Duggan style American flag. Hell, it could even get people uniting behind John Cena for once!
There is, however, one big disadvantage for Rusev himself, as well as a concern for the WWE. The foreign menace is a quick, easy gimmick that's pretty much guaranteed to get heat from a crowd; however, the longevity of the character is very limited. The Germans and Russians of the late 20th century lasted a long time because the business was totally different back then. Nowadays, it moves at a blistering pace and feuds that used to last six months now last six weeks. Once the Ukraine situation ends, where does that leave Rusev? His gimmick will be pretty much dead in the water. Previous efforts to turn a foreign heel babyface and align with the USA have had a lukewarm reception in the past – think of Nikolai Volkoff's babyface run in the 90s. So while the Ukraine crisis could easily make Rusev and Lana into stars, that fame will surely be fleeting.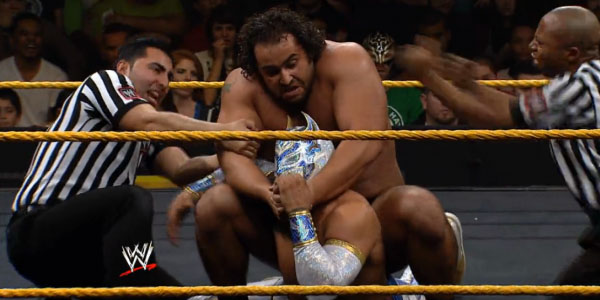 That's assuming that Vince does decide to pull the trigger on the whole thing. The chances are very high, but this is a different WWE than the one of years gone by. They are a publicly traded company that's accountable to its shareholders and sponsors, who have just launched the WWE Network and don't want any negative publicity. Then again, it's said that any publicity is good publicity, so it's a decision that Vince will have to take carefully. He wants to strike that balance between taking advantage of a situation and keeping the business world happy.
So keep checking the news for updates from Ukraine. I'm sure that Vince, Lana and Alexander Rusev are.