WWE WrestleMania 30: Andre The Giant Battle Royal Could Be The Pre-Show
The latest Figure Four Weekly Newsletter states that the 30-man Andre the Giant Memorial Battle Royal may end up on…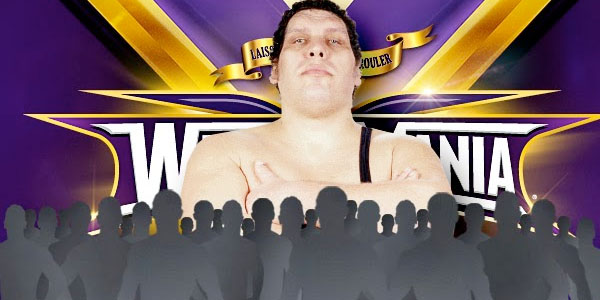 The latest Figure Four Weekly Newsletter states that the 30-man Andre the Giant Memorial Battle Royal may end up on the WrestleMania 30 pre-show.
Editor in Chief Bryan Alvarez is quick to point out that this feels like a waste of the Andre the Giant branding, in addition to ruining the meaningfulness of the victor. Triumphing on the PPV would be special, winning a pre-show would be less notable.
It feels a shame that WWE would think about taking this route given how much they pushed the Battle Royal on Monday and the big mid-card names such as Ziggler and Cesaro already booked for the match. Perhaps the win of the Battle Royal on the pre-show will see the victor qualify for a match on the main show, or perhaps some stars will simply do double duty on the night, Cesaro for example could be facing Jack Swagger on the main card.
In fairness to WWE, having a hot pre-show does make sense in a final effort to try and sway buys. The pre-show concept has became a major development of WWE in the last year, with far more effort being put into these productions than any year previous. Still, it's hard to believe the lead-in brings that much value of extra business, surely most fans are decided in their mind about buying or not buying in the hour before the PPV. The Battle Royal did have big potential for the main card, it could have been an exciting contest in which a star elevated themselves with a hard fought win.
Let's just hope this means more time for exciting matches such as Triple H vs Daniel Bryan which done right could be a match of the year contender.