WWE WrestleMania 30: The Shield vs Kane & Wyatts Expected
The latest Wrestling Observer Newsletter claims The Shield (Reigns, Rollins & Ambrose) vs Kane and The Wyatt's Harper and Rowan…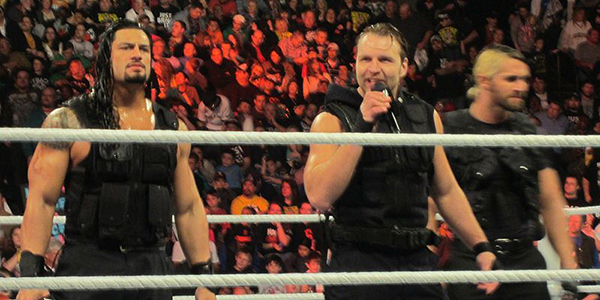 The latest Wrestling Observer Newsletter claims The Shield (Reigns, Rollins & Ambrose) vs Kane and The Wyatt's Harper and Rowan will take place on the WrestleMania 30 undercard.
This stems from The Shield beating Kane up at the March 11th Smackdown tapings following previous hostile TV segments. Meanwhile the group has never fully wrapped up their feud with the Wyatt Family. The indication would be a six man match for Mania where Kane teams with Harper and Rowan to battle The Shield — who would be going babyface as a three piece against the loathed heels.
This is remarkably different from original plans to break the Shield up and have Reigns break out as a singles star at Mania, although the Observer does note that this is still the long term plan. In the immediacy, this new direction doesn't make a whole lot of sense. Kane, Harper and Rowan are being thrown together out of nowhere. The Shield are going face as a whole when Ambrose had been angling off as a bitter and a jealous heel.
In the long run however, this all looks a smart move to get more out of the engaging Bray, Harper, Rowan / Ambrose, Reigns, Rollins feud that got over so hotly in February. Obviously Bray is busy with Cena at WrestleMania, so Kane has slotted in to keep his place warm until the original feud can be reignited at Extreme Rules. The Observer also reported on an internal WWE report of who the top stars will be after Mania, Bray wasn't on it, which suggests he will indeed lose to Cena and return to his current spot.
This is in many ways a great move for wrestling fans. The six man Wyatt vs Shield battles at Elimination Chamber and Raw were epic. WWE must have listened to those crowd reactions and acted to extend the lifespan of the feud. Kane coming in helps the story continue and the original match can then be done in many exciting ways at Extreme Rules — imagine the potential of the bout in a ladder match and through into the Summer. It's WWE's hottest faction feud in a long time, so fans should be glad that it looks like we could see it extend.