WWE WrestleMania 30: The Undertaker vs Brock Lesnar Could Change
Last week's Royal Rumble was a very memorable event for WWE in terms of what happened (Batista winning) and what…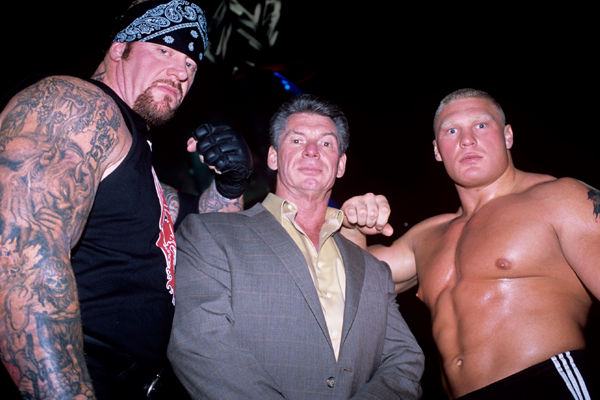 Last week's Royal Rumble was a very memorable event for WWE in terms of what happened (Batista winning) and what didn't happen (Daniel left to watch it on the sidelines). It was also noteworthy a day later when CM Punk walked out of the company.
We sit here two months until WrestleMania 30 with zero matches officially announced, no confirmations of anything happening and far too many rumours out there. When we watch Raw, Smackdown and PPVs we may have an idea of things, but the reality is that things are always changing in the crazy world that is WWE.
There's a report from PWInsider that states that there were major WrestleMania XXX creative meetings held this past week. You mean WWE has a creative team? Yes. They do. Sometimes when we watch the show it's hard to tell.
It's also been reported that the only WrestleMania match that is now considered to be a lock is Bray Wyatt vs. John Cena. That's what was pushed at the Royal Rumble, so it looks like it's still in the plans.
What's interesting to note is that things might change for "The Beast" Brock Lesnar, who was originally scheduled to face The Undertaker. With Lesnar vs. Batista teased on Raw last week, they could go in a different direction for him.
If Lesnar vs. Undertaker is off the books and they do Lesnar vs. Batista then that would mean Lesnar would walk into WrestleMania as WWE Champion since Batista gets the title shot. Either that or Batista puts the Royal Rumble title shot on the line, hopefully against Daniel Bryan and he faces Randy Orton one more time with the WWE Title on the line.
One thing is for sure in WWE right now. A lot of things are happening, some good and some bad, but all of them are newsworthy. It sure makes things exciting for us fans, but also worrisome too. They need to figure out what the right direction is because with WrestleMania 30 two months away they really need consistent booking in order to draw up as much interest as possible.