10 Star Wars Comics Moments That Shocked The World
5. Aphra Outsmarts Darth Vader - Darth Vader #25
Kieron Gillen and Salvador Larroca's Darth Vader series represents the pinnacle of Marvel's Star Wars books, and part of that comes down to the brilliant cast of characters it introduced - chief among them Doctor Aphra.
Chelli Lona Aphra (the reverse Indiana Jones of the galaxy far, far away), finds herself in the employ of Vader and proceeds to have The Most Stressful Time doing his bidding. She's joined by homicidal versions of C3PO and R2D2 (Triple Zero and Beetee), and with the threat of death constantly looming should she fail, Aphra makes sure to remind Vader that her biggest fear is being ejected into space. She asks that if Vader HAS to kill her, that he do so with his lightsaber.
Well, Vader being Vader (i.e., a huge dick), you can imagine he wasn't interested in obliging that request.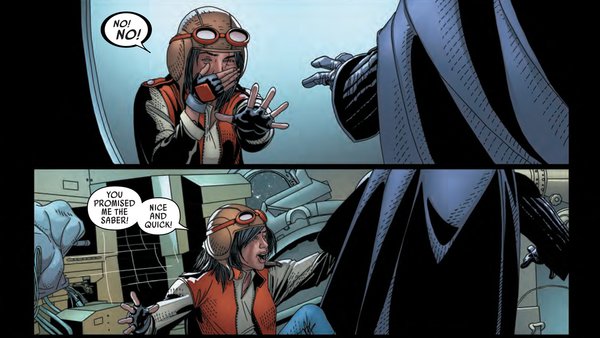 In the concluding chapter of Gillen's run, Vader decides to finally do away with Aphra after she revealed his many deceptions to the Emperor. He whisks her away to an airlock and ejects her into space, no doubt satisfied the punishment given was sufficiently cruel.
Only, we discover that Aphra has really outplayed the Sith Lord. Using gear acquired from a previous mission, Aphra is intercepted by her two droids plus Black Krrsantan - the fearsome Wookie bounty hunter - safe from the Empire's wrath... for the time being.
Ewan Paterson
WhatCulture's very own Comics Editor. Cats, comic books and spaghetti westerns are my thing. Rants about stuff @EwanRuinsThings
See more from Ewan