6 Things Joss Whedon Hated About The Avengers
6. Hawkeye'€™s €œVirus Arrow€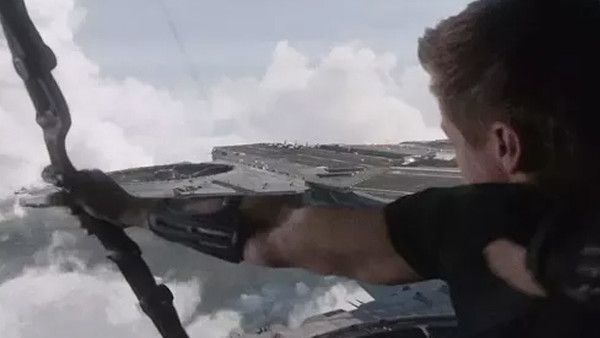 As usual when telling stories about super-teams that put ordinary humans side-by-side with gods, there's a certain pressure to make the humans impressive enough to keep up or at least contribute to the story. This was especially challenging with Hawkeye in the first movie: much of his backstory was cut from earlier drafts and he spent much of the film as a mind-controlled puppet, serving Loki without complaint.
His assault on the Helicarrier, firing an explosive arrow into the kind of wind resistance you encounter at seven miles' altitude, is hella impressive, taking out one of the engines on the first try. He then leads Loki's minions into a full-scale hijacking of the ship. But Whedon seemed, upon reflection, to find Hawkeye's next move a little too impressive. Like, Bugs Bunny-level impressive.
Sneaking into position near the cockpit, Hawkeye lets fly with an explosive arrow, then a second arrow that strikes a special port in one of its computers. On impact, the arrowhead sticks out prongs that fit into the port and another of the engines immediately dies, sending the Helicarrier hurtling out of the sky.
"What? It's a virus arrow!" Whedon jokes on the commentary. "That could totally happen! Don't make fun of me."
T Campbell
T Campbell has written quite a few online comics series and selected work for Marvel, Archie and Tokyopop. His longest-running works are Fans, Penny and Aggie-- and his current project with co-writer Phil Kahn, Guilded Age.
See more from T