Hellboy: 10 Comics You Should Read Before Seeing The New Movie
10. Hellboy: Seed Of Destruction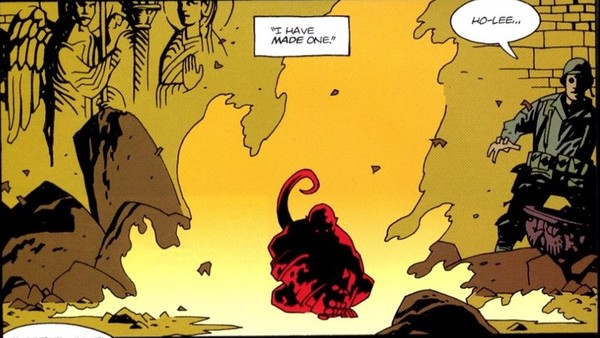 Whether you're a new movie franchise or a new comics reader, it probably makes sense to start at the beginning. So here we are.
Recently reissued as a 25th anniversary special, the first Hellboy miniseries was published in the spring and summer of 1994 and outlined the origins of our hero: accidentally summoned to earth by the Russian mystic Rasputin working for the Nazis to try and end World War II by bringing about the apocalypse.
Seed Of Destruction already served as a major inspiration for Guillermo Del Toro's original Hellboy movie and the character's 1940s "birth" formed a memorable prologue to that film, so don't expect quite so much direct adaptation of this comic series in the new version. Clips from the trailer do suggest, however, that we will see some form of prologue or flashbacks to young Hellboy arriving in this world in a ruined chapel in the Midlands village of East Bromwich.
Seed Of Destruction also provides both an origin and ending for Hellboy's surrogate father figure, Professor Trevor Bruttenholm, who both adopts the young demon when he arrives and is killed by a frog-like monster when the action flashes forward to the nineties.
Played by Ian McShane, a reimagined Bruttenholm also appears in the new movie. What are the chances that he makes it out alive?