10 Most Underrated Scenes In Star Wars
2. "Boring Conversation Anyway..."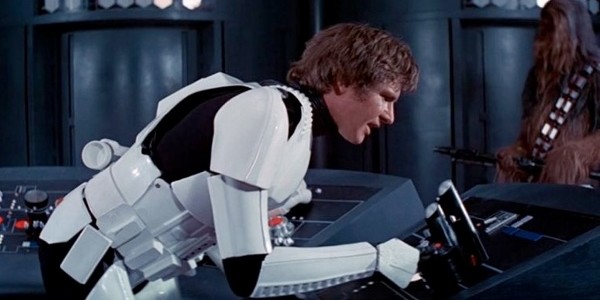 Improvised by Harrison Ford, the scene in A New Hope where Han Solo tries to placate an officer of the Empire via intercom after he's just blasted a crew of Empire officers and their work space to pieces is a genius throwaway moment. Coming after Han, Luke and co. shoot up the place and before the stormtroopers arrive, forcing our heroes into a trash shoot where they face being crushed to death, Han's inane conversation with the officer is easily forgotten. But it's the very same inanity, with that banal dialogue butting in between two action scenes, that makes this moment so perfect. "Everything's fine, we're all fine here now, thank you... how are you?" Han asks, his usual collectedness hilariously offset by his knowledge that they're all in deep trouble. Before he became Harrison Ford, Living Legend, Ford was just a cocky unknown, and there's possibly no better example in the Star Wars saga of Han's - and Ford's - facade of cool dropping to show the awkward humanity (and comic chops) underneath.