10 Best Hard Rock & Heavy Metal Albums Of 2018
Amorphis. Slugdge. Psycroptic. This isn't your typical 2018 countdown.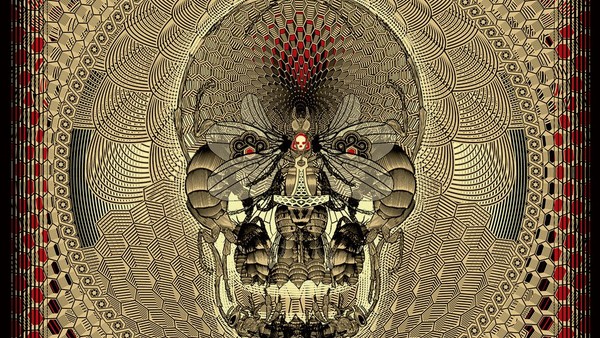 As far as heavy metal is concerned, 2018 has been pretty good. Granted, the year started out terribly, with the announcement of Slayer's impending farewell and the Devin Townsend Project going on indefinite hiatus. "Fast" Eddie Clarke passed away, meaning that every Ace of Spades-era Motörhead member had now, sadly, died. Then, shortly after, Judas Priest guitarist Glenn Tipton revealed that he had Parkinson's disease and stepped down from his regular duties in the band.
Things began to pick up in March, with quality albums coming from Judas Priest, Rolo Tomassi and Conjurer in quick succession. From there, the floodgates of brilliance opened: Bleed from Within, Sleep, TesseracT, Ghost, Nine Inch Nails, Zeal & Ardor, Deicide, High on Fire, Behemoth, Architects… The consistent magnificence of both well-known and underground acts this year has been truly astounding!
Of course, there were still stains throughout, among the biggest being the losses of Vinnie Paul, Randy Rampage, Ralph Santolla, Jill Janus and Oli Herbert. As I Lay Dying reformed, causing tidal waves of controversy. Also, Burzum ended, if anybody noticed and/or cares any more.
With 2018 winding down, what better is there to wrap up than by acknowledging the ten best metal albums of the past twelve months? Let's end on a high and summarise the biggest triumphs before subsequently turning our heads to 2019.
10. Rivers Of Nihil – Where Owls Know My Name
Where Owls My Name is an amalgamation of all of progressive metal's greatest aspects. On their third album, Pennsylvania's Rivers of Nihil create a visceral hour driven by the grunts and guitar tones of Enslaved, the drumming of Gojira, the instrumental diversity of pre-Animal Shining and the compositions of latter-day Death.
As a whole, it adds every permutation possible to the death metal subgenre. Songs like "Old Nothing" and "Hollow" are pure, fast-paced extreme metal, all laced with pounding rhythms and guttural vocals from frontman Jake Dieffenbach. These represent Where Owls Know My Name's most straight-shooting moments; other tracks "Subtle Change (Including the Forest of Illusion)", "The Silent Life" and "Capricorn/Agoratopia" integrate a slew of more atmospheric interludes through their clean guitars and reduced tempos, often capped off by a saxophone solo for good measure.
Where Owls Know My Name is easily Rivers of Nihil's masterpiece, culminating the increasingly progressive journey that they first embarked upon with their debut album in 2013. The overall effect that it will have on these Americans' career remains to be seen, but the album itself deserves to enjoy the same reputation as works by Between the Buried and Me and even Opeth.