10 Vince McMahon Moments Netflix WON'T Talk About
9. Those Jim Ross Jokes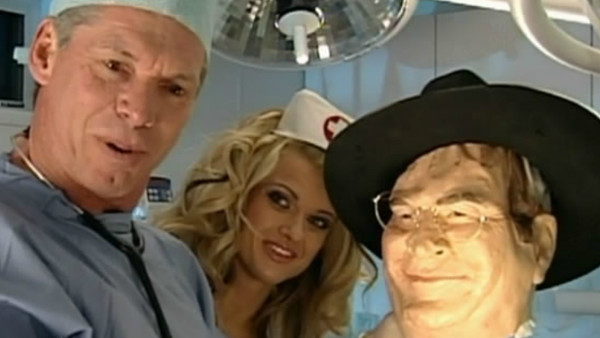 Jim Ross has said numerous times on his open and honest 'Grilling JR' weekly that he never appreciated Vinnie Mac's sense of humour. Bruce Prichard, meanwhile, has said on his own podcast that McMahon doesn't mind when others poke fun at him too. Still, some of the jokes at Jim's expense have been cruel.
Vince has contorted his face on screen to mock JR's Bell's Palsy, and even went so far as to pull Jim's head out of his own ass during a TV skit in 2005. That was particularly humiliating for Ross, not least because he was suffering the after-effects of colon surgery and was genuinely worried about his health.
WWE won't want these ruthless jibes to make air.
Also, JR is an AEW talent these days. That makes it less likely that his relationship (even the positive side of it) with Vince will be included. It'll be interesting to see how WWE handle the 'Attitude' boom period without any mention of Jim's influence.