Exclusive Interview: Brian Quinn Talks Impractical Jokers, Wanting To Work With WWE, 'The Misery Index' & More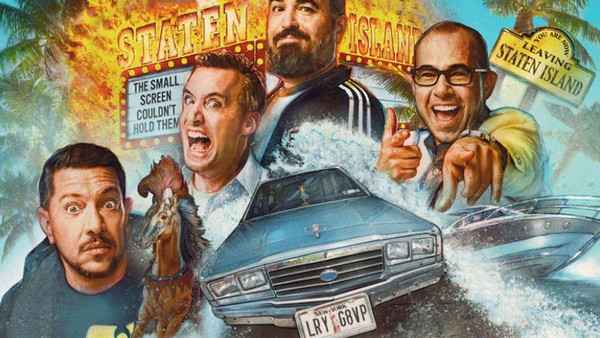 How did filming for Impractical Jokers: The Movie and The Misery Index differ from filming so many seasons of your own television show and what were your thoughts on the overall reaction from fans upon their respective releases?
Quinn: The fan base that follows Impractical Jokers and loves the show is not like anything I've seen. I've been a comic book fan since I was 11-years-old. The fever I used to see in comic book shops about "Who's going to win between Batman and Superman?", that sort of deep culture that's different than it is now ... I used to see that with Impractical Jokers fans. There's a loyalty there, a sense of belonging and a sense of family that we certainly didn't cultivate. That's 100 percent of the fans of the show who did it. It's incredible.
It's interesting for us because on Impractical Jokers the TV show, we call the shots. The network pretty much trusts us to do what we want, we have it down to a science. I show up for work, I hang out with my buddies and the crew and stuff like that, we have it down to a science. It's a blast. 'The Misery Index' is so much easier to shoot because it's in a studio.
If you think about Impractical Jokers, it's unique in that we don't have a set. Every day that we shoot, it's a new location. A lot of TV shows don't have that. Sometimes it's nice, sometimes we go to an air-conditioned room, and then sometimes it's underneath a dripping bodega in Queens. You never know what you're going to get.
To go to 'Misery Index', we go to a studio, and we've never been in a studio in our entire lives, it's climate controlled, you sit in your dressing room, and they call you up. With Impractical Jokers, we're all so involved in the creative that we'll obsess over a joke or we'll obsess over how to get Sal or obsess how to get Murr. With Misery Index, we're legally not allowed to know anything before we walk out to play the game. I drive to the studio, put on the clothes I'm going to wear, they say, "All right, you're on," and then you shoot for like 40 minutes and they cut it down to 20 minutes and then you're done. There's no prep work. It's a breeze, it's so much fun.
The only thing that comes into it is that you're responsible for people winning or losing money and that can be very harrowing in a way. You're going for 30 grand and you ask this woman, "What are you going to do with the money?" and she says, "I'm going to have a surgery," and then I'm like, "Oh my God, I have to win this money." That's an odd sort of pressure I wasn't ready for, but it's still fun. A lot of the time you still send them home with some money, which is great. I like sending people home with money.
Members of the WWE Universe have spotted you guys in the crowd for many WWE shows other the years including WrestleMania 35 and even the SmackDown in Brooklyn late last year, and you have also been seen wearing wrestling shirts on Impractical Jokers before. How has your experience at the events been like?
Quinn: Dude, that is so much fun because we've been wrestling fans our entire lives. You don't get to 44 and go to Raw and SmackDown every time they're in town without loving it, so we love it. It's because with WWE, our dream has always to be involved in a storyline, but that sort of thing happens so rarely.
Despite us not doing that, every time we say, "Come on! We want to be involved!", WWE is like, "We have to find the right time." They're always willing to give us tickets, let us sit ringside, go backstage and it's crazy because you're walking around backstage and you see the wrestlers and they're just so nice and they're fans of the show. You just end up talking to them.
It's this weird thing because I feel not like a kid but that same level of excitement but I can't believe I'm talking to Elias. Then you're friends with Elias and then you're texting Elias. It's madness, it's crazy and I'll never get used to it. We didn't get on TV, let alone successful, until I was 36-years-old.
I'm only 44, so I have an entire lifetime of not being able to go backstage at WWE shows and talking to wrestlers and stuff like that. I have not lost that excitement of, "I can't believe that we're here, I can't believe we're doing this, I can't believe we're sitting ringside." Every time, it's this crazy, mind-blowing event. It's really nuts.
[Continued page 3 of 4]