10 Greatest Promos In Modern Wrestling History
9. Hangman Page Is A Man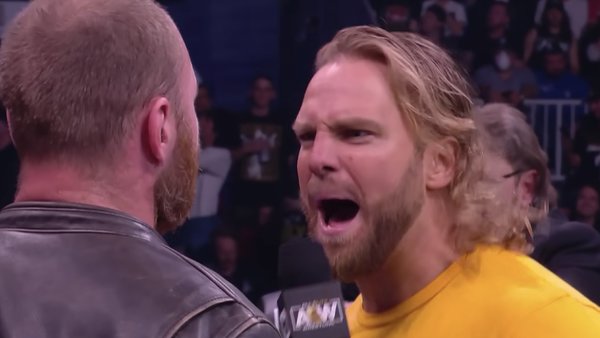 Hangman Page is one of the greatest pro wrestlers of all-time.
He's three years into his run as a truly great worker, where before he was a fantastic prospect, so it might be a little early to call - but his body of work is incredible, already up there with the best North American workers of any generation. The amount of great matches he's worked already is unreal, he's forged a deep bond with his fans with a novel, super-detailed continuous character arc, and on October 12, 2022, he cut one of the best promos of the century.
Jon Moxley claimed that certain wrestlers crumble under pressure, which brought him to - and summoned - Hangman.
Hangman raged against the idea that he was immature and unequipped to be the man of AEW. He acknowledged that he was "depressed, angry and frustrated", because he's a candid, flawed, relatable hero, but he also said - punching himself in the head - that he was a man. He screamed those words. The man was ablaze with defiance and belief. His conviction was awesome. He was face to face with the folk hero of AEW, and still made you root for him.
It's often said that the very best wrestlers are extensions of themselves or draw from the reality of their lives to make the fiction more convincing. Hangman wasn't just talking to Mox on October 12; the subtext of the promo was aimed at CM Punk.
He was saying "I am a man," but he was really saying "I'm not an empty-headed dumb f*cking f*ck, f*ck you".
Page wanted to say something like this for months, and his searing conviction worked beautifully within the parameters of the storyline.
A terrible production choice did threaten to undermine the whole thing, in that the camera kept cutting to MJF, who fans were desperate to get behind at the time. But this just made Page's performance all the more poignant.
It didn't matter what or who he was up against; he would always "keep fighting".