10 Sexiest WWE Kisses That Got Your Heart Pumping
These are the ones that made the men yearn and the ladies swoon.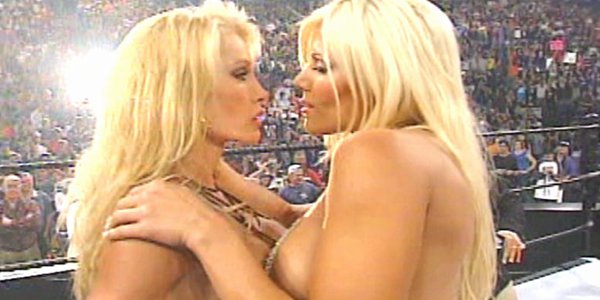 Santino Marella & Tamina Smuka. Eve Torres & Chris Masters. Charlie Haas & Maria Kanellis. Mickie James & The Great Khali. Mark Henry & Mae Young. Randy Orton & Stephanie McMahon and Kaitlyn & Hornswoggle. These are but a simple seven of the enormous plethora of pairs whom have locked lips for a ratings pop in their WWE careers. Sometimes for romance, sometimes for comedy, occasionally out of a genuine real-life affection, the kiss has become a recurring image in the pro-wrestling universe, so much so it's become a bit clichéd. There have been some absolutely awkward and pointless kisses over the years in WWE, some of which you'll find in the opening paragraph. However, on occasion, WWE has paired two performers together on-screen with a genuine chemistry. Whether as a one-shot deal or a recurring relationship, they've produced a selection of kisses that were genuinely hot, leading to folks in the arena and all around the world to get a little hot under the collar. This list takes a look at those latter ones. 10 genuinely sexy kisses that inspired a few extra beats-per-minute from the viewing public. These are the ones that made the men yearn and the ladies swoon. These are the ones that proved breath is of little consequence.