10 WWE Divas With The Worst Boob Jobs
With all due respect to these ladies, your boobs were clearly fake.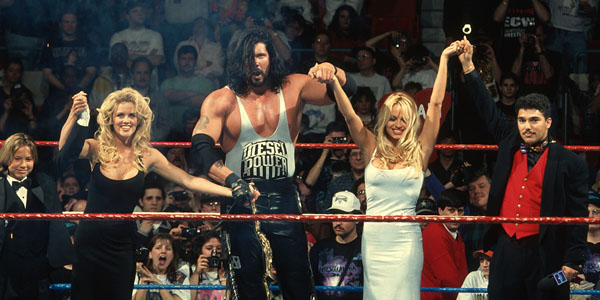 At Wrestlemania XI in 1995, Shawn Michaels and Diesel entered the ring for a WWE Championship match. This was a surprising turn of events- a classic pro-wrestling swerve- as all Vince McMahon and Jerry Lawler had spoke about on commentary all night was the fact Todd Pettengill had lost Pamela Anderson. As it was, things turned out fine because Diesel found her and she came to the ring attached to his arm, which meant nobody really noticed Diesel was there. All eyes were on Pamela... or at least, on a part of Pamela. The next year, Sable debuted along with Marlena and a trend had begun. A new era in WWE was upon us! This was the Implant Era and it went hand-on-breast with the boom of Steve Austin and The Rock over on the men's side of things. As it turned out, this 'trend' in professional wrestling would go on to last the forthcoming decade. In 2010, shortly after her departure from WWE, Maria Kanellis was asked to divide the current crop of WWE divas into €œReal€ and €œFake€. She listed 4 who had resisted the urge to go under the knife and 12 who had not. Thankfully, in more recent times the fake boobs trend in WWE (and the world) seems to be fading. Girls like AJ Lee, Paige and Brie Bella (though, granted, not Nikki) lead the way in a new crop of WWE divas, naturally beautiful enough to charm the audience without ever needing the 'boost' of silicon. This is a positive, thankful state of affairs because, whilst some WWE Divas of the past made the fake boobs work for them- such as Trish Stratus and Torrie Wilson- others should have never gone under the knife. A lot of it comes down to proportion and size but it truly goes without saying that some WWE Divas, pressured by the need to stand out, ended up taking increases of ridiculous amounts and, in turn, made their bodies look far worse than they had ever been before. With all due respect to these ladies, here are the 10 worst examples of boob jobs in WWE history...