8 Things You Didn't Know Were Banned In AEW
7. Hulk Hogan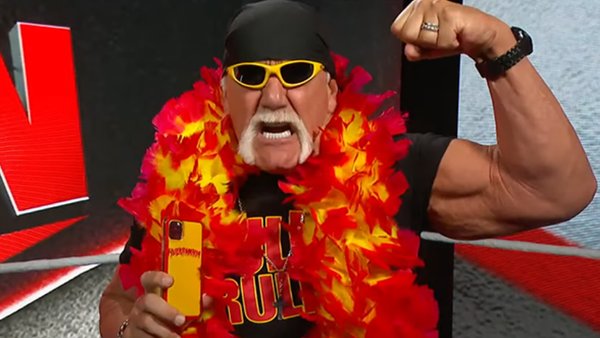 Hulk Hogan was banned from WWE in 2015 because his reprehensible racist outburst shocked the wrestling world into disgust and irrevocably altered his perception. The hero to so many children was now a heel, forever, in the minds of the grown-ups who knew better. He no longer deserved to be platformed because disregarding his opinions - which isn't too dissimilar to endorsing them - was not the right thing to do.
That's not exactly true, is it?
Hulk Hogan was banned from WWE because he risked a public relations disaster when the scandal was felt more deeply. True, earnest disgust did not factor into it; if that were the case, he'd have never returned.
He did, insidiously, in 2018. He was quietly re-inducted into the Hall of Fame, and then, in a backdoor pilot of sorts, he hosted Crown Jewel at a time when Hogan appearing on it was one of the lesser moral concerns surrounding the show. Much as the TV product can indicate otherwise, they really aren't daft. They knew how to normalise his being in WWE by bringing him back at the "perfect" time. He was brought back properly, on actual canonical TV, when Mean Gene Okerlund died, under the ugly principle of "How can you not?"
Tony Khan has no such ideas to reward Hogan; when Hogan's ex-wife Linda posted a foul, racist tweet amid the bleak unrest of 2020 - saying only "afro-Americans" who were not "civilized" were looting - he replied saying "You've now joined your husband in being banned from all AEW shows. Congratulations."