Bryan Danielson On New AEW Role: "It's Not A Heel Turn... I'm Just Being Me"
AEW's headkicker-in-chief speaks on his ongoing feud with 'Hangman' Adam Page.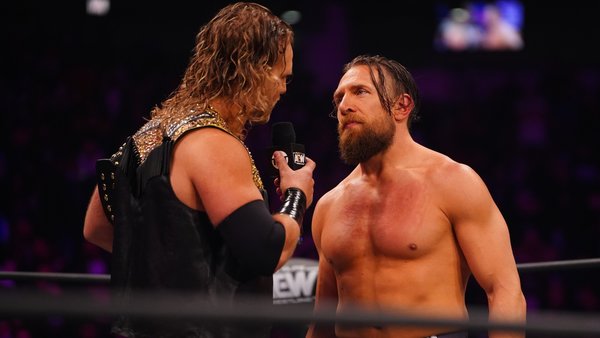 Yesterday saw Bryan Danielson appear on Busted Open Radio ahead of that night's Dynamite episode in Chicago, Illinois, with the 40-year-old touching on a number of topics relating to his AEW run, including his new role opposite 'Hangman' Adam Page.
The duo are set to clash for the AEW World Championship after Page took the belt from Kenny Omega at Full Gear 2021, doing so on the same night that Danielson claimed contenders by besting Miro.
Last week, Danielson turned to some of his character's more unsavoury traits to put heat on him opposite the indomitably popular World Champion. It felt more like him leaning into a harsher personality rather than a full-on turn, which Danielson referenced in the interview.
Bryan said the following on the segment itself (h/t Figure Four Online):-
"So, I don't know what people are talking about. I thought the people of Virginia were giving me a really tough time. I don't think anything I said was wrong or even mean to say, 'Hey, congratulations Hangman Adam Page. You are the world champion, I'm a little disappointed it's not Kenny Omega because that's who I wanted to beat for the AEW Championship. And I'm a little disappointed that you're not wrestling tonight and that you haven't been wrestling that much and I've been wrestling every single week since I've come to AEW.'"
Danielson continued, focusing on the "turn" aspect, saying it was more a case of him being himself:-
"I don't think any of that is overtly mean [laughs]. I think because people boo me, and I'm not gonna lie I do enjoy being booed. There's something just so fun about it [laughs]. So, I might lean into that a little bit more but there was nothing I said that was wrong or mean or anything like that. Now, because of that I'm gonna kick all of his friends' heads in but I think I would be doing that anyway. I don't consider it a heel turn. I'm just being me."
Page and Bryan got into it again on last night's Dynamite, going back-and-forth on the microphone after Danielson had defeated Hangman's Dark Order ally, Colt Cabana, in his hometown. AEW is yet to confirm a date for the World Title match, though Page wanted it to go down there and then.
Create Content and Get Paid
---