Edge "Never Understood" Fan Flak For This WWE Star
WWE comeback king Edge says he'll never understand why fans hated this worker so much.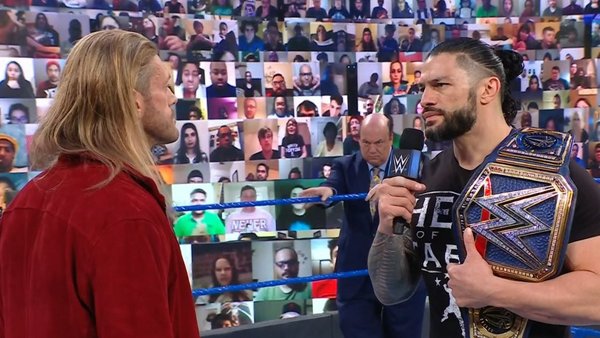 Edge still scratches his head when he thinks about the scorching hatred some WWE fans had for Roman Reigns before he turned heel.
The 2021 Royal Rumble winner appeared on 'The Steve Dangle Podcast' and revealed he "never understood" why someone as talented as Reigns was booed so mercilessly by the core audience. At the same time, Edge could see that Roman "wasn't allowed to come out character-wise" and be the performer who's currently tearing it up on SmackDown every week.
That's why Edge is so thrilled by the thought of finally working with Reigns - that's likely to happen at WrestleMania 37, but Mr. 'Rated-R' refused to give anything away about that on Dangle's show.
Looking back, Edge can't believe that fans gave Roman so much "flak". In fairness, the contrast between Vince McMahon's pet project superhero and the 'Tribal Chief' gimmick today is really night and day. Reigns is a bad ass now.
Edge also told Dangle that he's blessed to bridge a gap between multiple generations. This entire 'second chance' feels like it's happening for a reason, and he can't wait to work with guys like Roman.
Create Content and Get Paid
---