How WWE Made Women's Wrestling History At Hell In A Cell 2021
WWE's women's division aren't popping right now, but history was made at Hell In A Cell.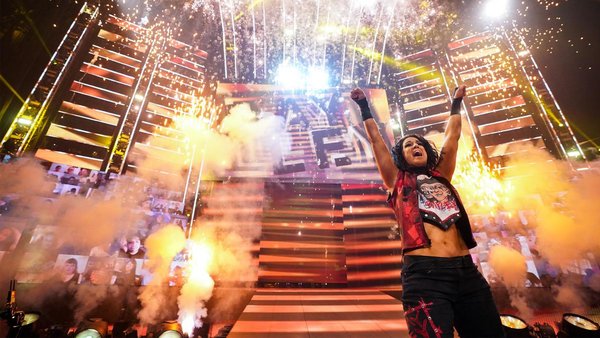 WWE made women's wrestling history at Hell In A Cell 2021, with last night's show becoming the first mixed-gender pay-per-view in company history to feature more women's bouts then men's.
The women had the men beaten with four matches to three at HIAC 2021. This included two title fights in SmackDown Women's Champion Bianca Belair vs. Bayley and Raw's Rhea Ripley vs. Charlotte Flair, as well as Alexa Bliss vs. Shayna Baszler and Mandy Rose vs. Natalya, which took place on the Kickoff Show.
Bobby Lashley and Drew McIntyre's WWE Title match main-evented the show, with Flair vs. Ripley going second-to-last.
It's fitting that this would happen at Hell In A Cell, given that the show's 2016 incarnation was the first time a women's match had ever headlined a WWE pay-per-view, with Sasha Banks and Flair stepping inside the titular cell.
2021 hasn't been a banner year for women's wrestling in WWE, with mainline feuds between Ripley and Flair, Ripley and Asuka, and now Bayley and Belair underwhelming critically, despite the scene's often stellar match quality. Nonetheless, these matches outnumbering the men didn't feel forced at all, regardless of the difference in roster size.
Credit to Reddit user u/thefutureisthefuture for being first to point this out.