The Undertaker On The WWE Idea That Made Him "Livid" With Vince McMahon
"This is not what Undertaker does," said the Deadman of Vince McMahon's bum idea.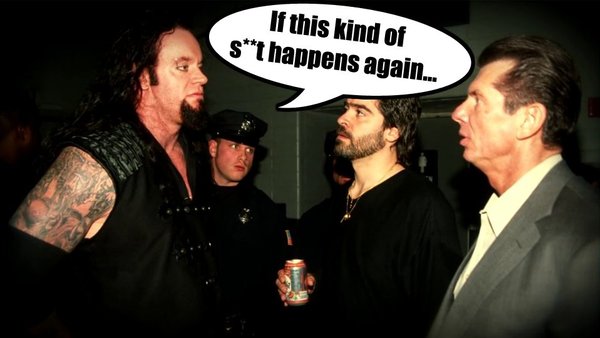 The Undertaker might consider himself an American patriot off-camera, but The Deadman wasn't happy playing that role ahead of WWE Survivor Series 1993.
Undertaker revealed as much during a new appearance on WWE's The Bump. Speaking on the pre-Survivor Series angle, which saw him reveal his allegiance to The All-Americans by revealing stars and stripes lining inside his trenchcoat, 'Taker confessed he was "livid" with Vince McMahon about it.
Why? Because it didn't fit his character.
"Believe me, I'm as big a patriot as will come down the road. I do a lot of work with our veterans and our first responders. But when Vince [McMahon] presented that to me, I was like, 'There is no way in heck I am gonna walk out there and open my coat with that flag'. [But] he thought it was so cool because it was the Betsy Ross 13-colony flag, right? And that was what was gonna make it cool. I was livid. I was like, 'This is not what Undertaker does.'"
The Lex Luger-captained All-Americans ended up defeating The Foreign Fanatics (Crush, Jacques Rougeau, Ludvig Borga, and Yokozuna) at Survivor Series 1993. Luger was the sole survivor, pinning Borga after Yokozuna and Undertaker were both eliminated via double countout.
Years later, Undertaker began working patriotic elements into his character under his 'American Badass' guise.
H/T Wrestling Inc.
Create Content and Get Paid
---