5 Greatest Movies Featuring A Win On The Lottery
Be honest: every time you play the lottery, the same fantasy runs through your head, of you sitting in a…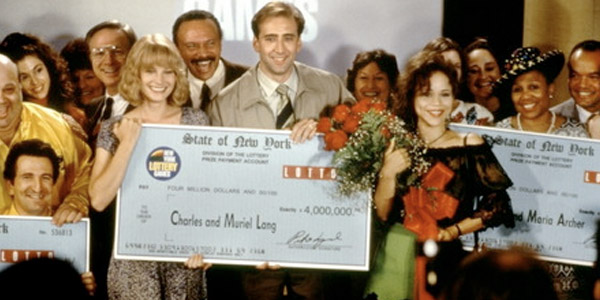 Be honest: every time you play the lottery, the same fantasy runs through your head, of you sitting in a bath full of champagne, wearing a top hat and monocle, and throwing wads of cash into the air gleefully. Before you've even left the shop, you've spent half the money that you're almost definitely destined to win, no matter what the actual odds.
Feeding this fantasy is the many, many movies that have involved lottery wins, and the results for the winners. They are invariably everyman characters, just like you, who need an escape from the mediocrity of mundane life, and who see their universe changed entirely by the huge injection of cash brought when the right numbers come in.
Now more than ever, the experience of buying a ticket is even easier, so that dream can be fed without even needing to go to the shop, and the opportunity to win even bigger pots has been increased by the appearance and popularity of the Euro Millions lottery – a nine country lottery that runs throughout Europe every Friday, with jackpots that make the normal lottery wins look like pocket change. Naturally, you can also buy your tickets online and it's easy to find out the euromillions results online too.
If you're yet to taste the irresistible thrill of a lottery win (above £10,) you can still live vicariously through the experiences of film characters – both good and bad – thanks to the movies that feature lottery wins. Some films are cautionary morality tales, that warn about the dangers of getting what you want, and some are simply committed to making everyone jealous of the winners.
So with that in mind, we've put together the 5 greatest movies featuring a win on the lottery…
5. Lucky Numbers (2000)
Harrisburg PA's weatherman, Russ Richards (John Travolta) is down on his luck, after investing in a snowmobile company that is struggling thanks to the unseasonably warm weather. After getting in more debt after a scam goes wrong, he is convinced to rig the lottery, which leads to a trail of murder and double-crossing. With a great cast, and directed by the late great Nora Ephron, this is an underrated pleasure.
4. Lottery Ticket (2010)
Kevin Carson (rapper Bow Wow) lives in the projects, and is forced to survive a three-day weekend after his neighbours find out he has a winning lottery ticket, worth a massive jackpot of $370 million.
3. Lucky(2011)
In the same year that he played Dexter's nemesis Travis Marshall, Colin Hanks played another serial killer, this time in a dark comedy, which sees him kill a young woman and steal her winning lottery ticket. His long term crush Lucy suddenly notices him when he wins the $36 million jackpot, and the pair marry, but Lucy discovers his secret, and has to gamble on whether she should run away, or stay for the money.
2. Waking Ned (1998)
Jackie and Michael live in a small Irish village and discover that their friend Ned has died of shock when he's realised he won the lottery. As Ned doesn't have a family, the pair comes up with a plan of how they can claim the ticket, but the plot thickens when the lottery claim inspector arrives on their doorstep in person!
1. It Could Happen to You (1994)
The perfect combination of love story, moral high ground and the idea of fate taking a hand in people's lives. Nicholas Cage plays the role of Charlie Lang, a hard-working New York cop who doesn't have change to leave a tip for his coffee. Instead he offers to split the winnings with the waitress (Bridget Fonda) who served him. When he – inevitably – wins, his social climber wife Muriel (Rosie Perez) tries to do all she can to persuade him not to honour his promise. Of course, Charlie does the right thing and ends up falling in love with the waitress, but being sued for divorce by his wife.
It's impossible to know how you'd actually react to winning a million or more, but it's worth buying a ticket to be in with a chance to find out!