Django Unchained: 10 Things You Didn't Know
Quentin Tarantino's latest flick – the spaghetti western/blaxploitation hybrid Django Unchained – has generated a huge amount of discussion and controversy since it first…
Quentin Tarantino's latest flick – the spaghetti western/blaxploitation hybrid Django Unchained – has generated a huge amount of discussion and controversy since it first made its way into theatres one month ago – so much so, in fact, that a lot of people seem to have forgotten that, hey, it's just a movie: it ultimately exists to entertain the heck out of you.
Choosing to depict America's dark period of slavery through his own uncompromising and unashamedly frank style ("it's history without a capital H," the filmmaker has said on a number of occassions), Tarantino's balls to the walls tribute to Italian directors such as Sergio Leone and Sergio Corbucci is an exciting, tense, beautifully-acted and hellishly violent adventure through the mid-19th century antebellum south. And that's precisely what Django Unchained is at its core: a great adventure movie. So hang up your Smith & Wesson for a while and push all the controversy aside… allow us to dazzle you with 10 things you didn't know about Django Unchained.
10. Tarantino Got The Idea For Django Unchained Whilst Writing Subtextual Film Criticism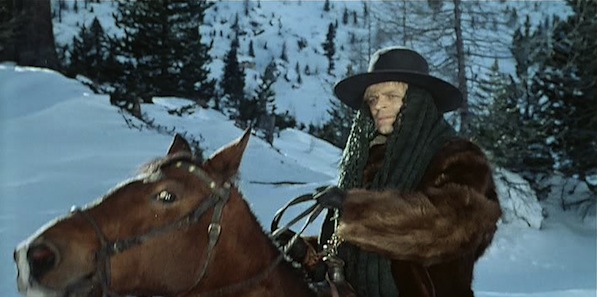 A self-declared superfan of Italian spaghetti western maestro Sergio Corbucci, Quentin Tarantino was struck by the idea for Django Unchained whilst working on a book about the director. "I was writing a book about Sergio Corbucci when I came up with a way to tell the story," Tarantino said. "So I'm writing this whole piece, and I'm thinking: 'I don't really know if Sergio was thinking [this] while he was doing this. But I know I'm thinking it now. And I can do it!"
After Sergio Leone, Sergio Corbucci is perhaps the next best-known filmmaker to have worked in the sub-genre. His films include the original Django (obviously a major influence) and The Great Silence (which inspired the film's snow-set sequences), both who which were deplored at the time of release for their brutal violence. Sound familiar? Corbucci's films were also renowed for their willingness to incorporate darker historical themes, much like Django Unchained.