WWE 2K15: 9 Reasons It MUST Be WWF vs WCW
"The Monday Night Wars" is the only mode that would allow WWE 2K15 to live up to the previous games.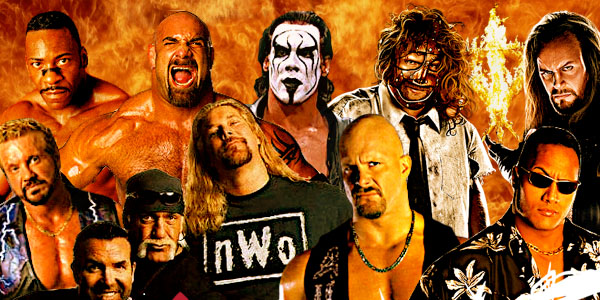 When THQ took to nostalgia to revitalise their stagnating WWE video game franchise with the "Attitude Era" mode in WWE 2K13, they struck gold. All of a sudden the games weren't just designed with current fans of the product in mind but now they were also designed to be as equally appealing to those who were a part of the most exciting time in the history of this business, but who at some time in the past decade or so moved on or grew out of wrestling.
What this smartly allowed the game makers was to market more than one generation of fans. Those who grew up with Stone Cold Steve Austin's heated employee/owner feud with Vince McMahon in the late 90s and the brothers of destruction, The Undertaker and Kane, fighting over a sibling rivalry with their mentor Paul Bearer and the rise of D-Generation X could now re-live their memories and indulge on the best of yesteryear without having to feel like they were missing out if they hadn't kept up with the produce in years.
More current fans from the Cena nation who would know who Dolph Ziggler and Wade Barrett are but wouldn't necessarily know their Al Snow's from their Big Bossman's were also satisfied by a game that accurately replicated the current PG era. Effectively, THQ and 2K Games were able to double their audience and the sales figures for the Attitude Era mode in WWE 2K13 showed they had hit on a landmark idea.
Last year's WWE 2K14 similarly enjoyed the fruits of this labour, utilising the "30 Years Of WrestleMania mode" that arguably appealed to even more generations of fans with the addition of the likes of Rick Rude, King Kong Bundy and Andre The Giant from the 80s and the ability for fans to play through the past three decades of WWE.
But where could 2K games possibly go next to live up to fans expectations? So far there's no real detail about WWE 2K15 outside of the November release date and the fact it will be available on next gen consoles. Whilst we wait for official news, however, if we are honest with ourselves, there's only one answer and that's WWF vs WCW: The Monday Night Wars. Here's 10 reasons why…