WWE 2K15 Roster: 10 NXT Superstars Who Must Be Included
Stepping up to the big leagues.
The greatest accomplishment Triple H has under his belt since taking on a senior talent role behind the scenes is undoubtedly masterminding the rebirth of NXT. Formerly a rather lacklustre reality show format, a few years ago WWE repackaged into a fantastic training ground for the company's up and comers. With their own space to grow and develop characters in front of a crowd, NXT has turned out some of the most popular and entertaining WWE Superstars to make the jump to Raw and Smackdown. The Wyatt Family, The Shield, Big E Langston and Paige are all NXT graduates who are currently making waves on WWE's flagship shows.
With that in mind, NXT is sure to have a greater presence than ever before in the WWE video games starting with WWE 2K15 at the end of this year. Here's our pick of the top ten NXT stars we want to be stepping into the boots of come October 28th.
The criteria of picking these ten are fairly tight: they must be on NXT's current roster and not have made the leap to the main roster; even if they are still making NXT appearances, so the likes of Tyson Kidd, Summer Rae and Natalya do not count here. Also, tag teams who are more established as a team rather than singles competitors will be included as a single entry.
10. Sasha Banks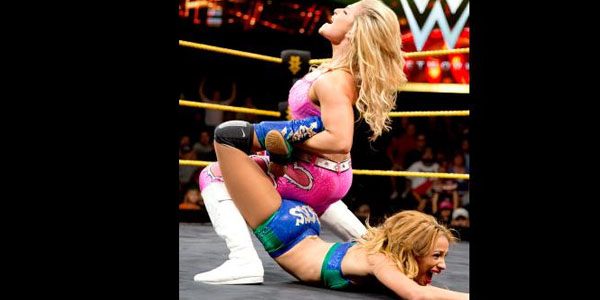 After an initially unremarkable debut, Sasha Banks (Snoop Dogg's cousin, as William Regal is quick to remind us all) hit her stride as part of the BFF's: 'Beautiful Fierce Females' with Summer Rae and Charlotte. Proclaiming herself the 'Boss of NXT' and strutting around in silver sunglasses and a bedazzled leather jacket, Sasha is a fine example of the newest generation of Divas strengthening the Women's division both at NXT and on the main roster.
As far as WWE 2K15 goes, she deserves a place in the game alongside her fellow BFF's. Their group entrance alone should be reason enough to get them in the game, but as one of the brightest young stars in women's wrestling, Sasha has earned a spot in her own right.