John Fogerty – Wrote A Song For Everyone Review
On paper this was a bad idea. Re-recording classic hits with younger, more relevant stars is the kind of tired…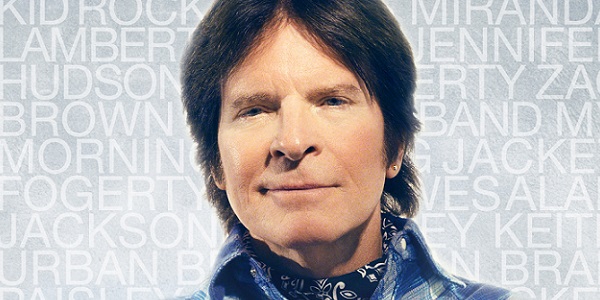 On paper this was a bad idea. Re-recording classic hits with younger, more relevant stars is the kind of tired move you would expect from artists such as Rod Stewart or Tony Bennett, but John Fogerty's 9th solo album 'Wrote A Song For Everyone' gives his greatest hits a shot in the arm (not that they needed it) and an immediacy and urgency that rarely comes across from studio recordings.
John Fogerty made his name fronting and writing for swamp rock legends Creedence Clearwater Revival in the 1960's. In those five short years he produced an almost non-stop stream of hits; 'Proud Mary', 'Fortunate Son' and 'Bad Moon Rising' are a few amongst dozens. His solo work began in 1985 with 'Centerfield' and he hasn't stopped since.  Playing live he performs with the ability and energy of a man a quarter of his age and it is that energy he has somehow managed to bottle for this record.
The album begins with a ferocious version of 'Fortunate Son' featuring Dave Grohl of the Foo Fighters who, now used to singing with the greats for his 'Sound City' documentary, tears into the track with as much passion and energy as he has given to a song for a long time. He may have been approaching his 68th birthday at the time of recording but Fogerty doesn't struggle to keep up with Grohl. It's not just his singing and song writing that are still stellar. Coming up against Brad Paisley on 'Hot Rod Heart', Fogerty shows his guitar playing can match the best in the business.
These songs are invincible. Much like ABBA or The Beatles, the songs of John Fogerty are ageless. These are not reworkings and neither are they tired by-the-book covers. Each track has been injected with energy and a little something extra. Take Tom Morello's solo on the title track as an example. Or the middle ground between the original version of 'Proud Mary' and Tina Turner's version that he finds with Jennifer Hudson.
His guests are pulled from across the musical spectrum and almost without exception they have been picked to suit the songs and each track benefits as a result. Kid Rock, My Morning Jacket and Bob Seger all appear. Who else could put Miranda Lambert and Rage Against The Machine's Tom Morello on the same track and make it sound so good? Throughout the album Fogerty does not hide behind his guests. He is front and centre on every single track.
Amongst the hits are two new songs to remind us that his not a vintage act. Six minute 'Mystic Highway' thunders and roars. Masterful, bluesy number 'Train of Fools' seamlessly fits with the best tracks on the album. Considering the quality of the other songs, that is no mean feat.
This record is not a retrospective or a revival. John Fogerty is as powerful as he always was and his enthusiasm comes across in waves. For many these songs will bring back memories but these tracks are so vibrant in their new recordings that they sound brand new and energized. Younger listeners would have trouble picking out which songs were written in 2013 and which were 40 years old. Every single moment comes across with a joyful enthusiasm and love for the music. According to the USA Today interview he gave on the eve of the album's release, Fogerty has said that he has no plans to retire and why should he. Like his songs, John Fogerty is timeless.